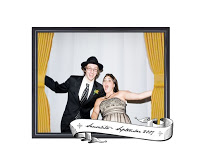 Wedding Wednesday: DIY Photobooth
I looked into renting an old fashioned photobooth for the wedding, but it turned out to be difficult and expensive. Instead, we're going to set up one of our own.
The plan is to make a little "stage" out of a wood picture frame with yellow curtains that guests can pose behind. A digital camera will be tied to the frame on a long string. I'm debating having things like fake mustaches and hats, it might be a little too much. I'll print up some of the photos to send out with my thank you notes after the wedding.
PS: The photo in my cheesy mock-up comes from Amanda and Matt's great DIY photobooth featured on Snippet & Ink.