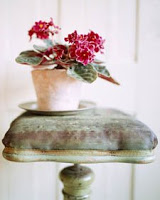 Things I Love Today: Violets
My african violet in the kitchen has finally bloomed again, I think I'm on pace for once every 2 years. It's lovely in a Chinese bonsai pot that I inherited from my grandmother. I wonder if violets will come back into style? They're sort of "granny" but look nice in a modern pot.
It would be fun to dress a table for a tea party or shower with potted violets. You could pair it with favors of french violet pastilles that have an anise seed tucked inside each candy.
PS: Bay area readers, especially around Sonoma: My friend has a fish tank and supplies for sale. It's the same style as the tank we keep our fancy goldfish in seen here.