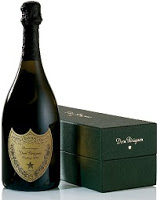 Wouldn't it be festive to serve your wedding champagne or wine from one large magnum instead of a few bottles? It might be tricky for the servers, but so fun!
The idea came to me when I was looking at an old issue of Country Living Magazine in Idaho. One of the homes had a vintage magnum bottles in the dinning room as decorations. They're instantly celebratory. And the label on this Dom Perignon example is a classic.
I'll have to have my wine-expert bridesmaid give me some advice about this.