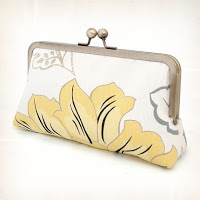 Wedding Wednesday: Bridesmaid Gifts
For my bridal party gifts, I had each each bridesmaid pick out their own custom clutch from Red Ruby Rose via Etsy. There are so many lovely fabrics and colors to choose from!
They've picked the starburst petals, blueprint and peony designs that should arrive in a few weeks. I'll fill each bag with a few other goodies I've found. Together with the ivory pashminas from H&M, this is another thing checked off the to-do list!