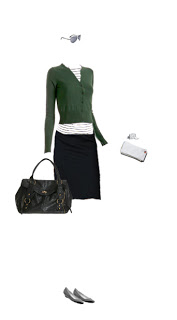 It's a bright and sunny day in the city. I walked to work this morning with my iPod on Brett Dennen and a bag of stamped wedding invitations ready to go out in the mail. I love having a little French flair from my new striped tee:
Sweater – Mine is from Kenzie and is a softer moss color.
Tee – From H&M, not available online. White with thin black stripes.
Skirt – A basic black pencil skirt.
Wedges – The only way to do "heels" and still be able to walk to work. My pair are olive green from Kenneth Cole Reaction.
Bag – From Urban Outfitters.
Sunglasses – My new pair makes me feel so tough.
All I need is a beret and a tiny poodle!