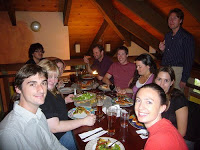 Pre-Wedding: Rehearsal Dinner
There were a few points during the wedding weekend that had me exclaiming "it's a wedding miracle!" The rehearsal dinner was certainly the first!
I booked this local pizza joint at the last minute after only eating there once and never seeing the private room. We had been told up until a few weeks before the wedding that we could order in food to the club. And when that changed suddenly, I made a quick decision.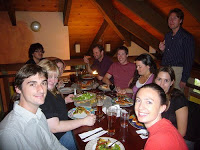 It turned out to be perfect! A cozy little room upstairs warmed up all 35 of us from the rain outside. And the pizza (a different set of toppings for each table) proved to be a great conversation starter and excuse to mingle. Who doesn't like pizza and salad?
And the very best part of all is that it cost half what I was planning, even with having an "open bar" for drinks. And the restaurant gave us a free bottle of wine to take home as a thanks. Hooray!