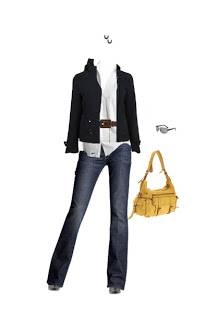 What to Wear: Fall Basics
Dressing in "outdoorsy mode" from a rotating selection of 10 pieces for the last month has put me in a bit of a fashion funk back at home. Combine that with the recession, which is boosting my very cheap, anti-spend-on-anything-including-clothes side, and I'm feeling a little shabby for fall.
I saw a woman in my neighborhood wearing something along these lines and knew that I would have to do at least some stocking up: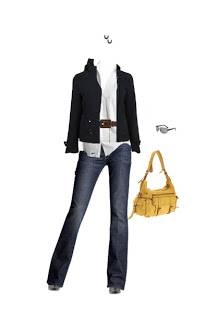 Blouse – I've been pining for the perfect white shirt for a while now. This woman had an oversized version belted.
Jeans – I only buy about one pair a year, it's time for a refresh.
Coat – I probably have too many coats…but I could use a versatile blazer.
Earrings – Add a pop of color.
Boots – I love the look of these almost flat, wedge boots from BCBG. But I think they're too wide for my twiggy calves and I'd prefer a zipper. The hunt continues!
Bag – I love my inexpensive yellow purse.
Sunglasses – Aviators always help me feel tough.
What must-haves are on your shopping list?