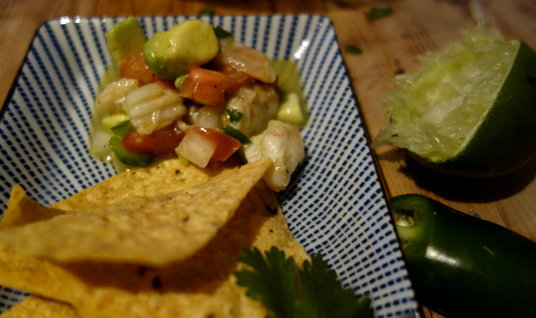 Mmm. I love ceviche so much. Somehow – despite eating pounds and pounds of the stuff in Mexican sidewalk cafes and shady San Francisco taquerias – I had never made it myself. That was until last night!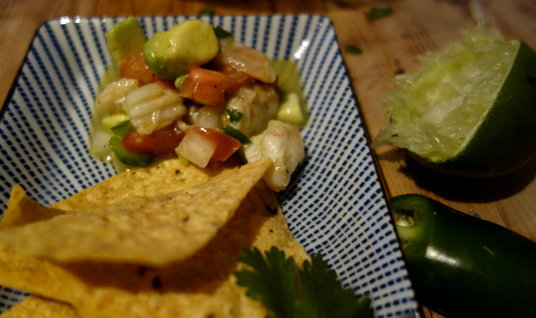 Rob and I exercise on Monday nights ("monday run-day") so I needed something we could prepare pre-run to eat after the run. This was perfect and so, so easy. If you can make salsa, you can make ceviche.
Shrimp Ceviche
Serves 4


2 lbs of raw shrimp (I used frozen, medium, with tail on)
2 ripe tomatoes
1/4 white onion
1 fresh jalapeno
4 limes
1 avocado
1/3 cup fresh cilantro
1/3 cup olive oil
Salt, pepper, chili powder
Corn chips or tostada shells
Thaw your shrimp, if frozen. Pull off the tails and chop into skittle-sized pieces. Chop the tomato and onion. Finely mince the jalapeno – gauge the amount based on your level of spiciness desired (we used 3/4 of a pepper, no seeds). In a glass or porcelain bowl, combined the raw shrimp and vegetables. Squeeze the juice from 4 limes over the mixture, add the olive oil. Toss.
Let the mixture chill for at least an hour. You'll see that the shrimp has "cooked" from the lime juice when you're ready to eat. Add avocado and cilantro to the mix before serving. It's also authentic with cucumber if you have it. Season with salt, pepper and chili powder to taste.
For the authentic presentation, spoon the drained ceviche on a tostada shell. Or, eat with corn chips like Rob and I did tonight!