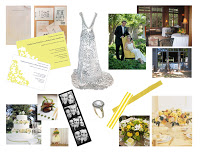 Introducing: Wedding Vision!
After a bit of a freak out last week about not having a clear "vision" for the wedding, I buckled down and mapped it out. I feel so much better now!
It looks clean and put together and nice. (I just need to find a yellow upholstered chair somewhere!) I have a copy of this taped inside my medicine cabinet and it makes me smile every time I brush my teeth.