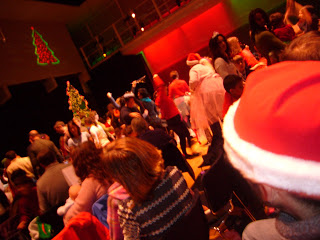 Weekend Round-up: Cabin Fever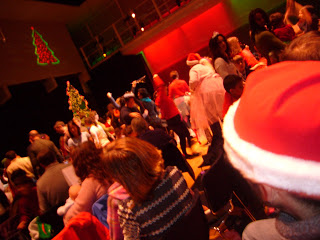 Not much to report thanks to this damn cold. Rob and I stayed home all Friday and slept most of the day.
On Saturday, we expected to wake up feeling better…no dice. We stayed in bed until the last possible minute and then loaded up with tons of cold medicine.
We had to meet friends at 11:30 for SantaCon and our Christmas card photo. We walked from fisherman's wharf to North Beach with a group of a couple thousand people dressed in santa costumes. Oh, San Francisco!
Back in bed after that, we had RSVP'd to two holiday parties that night but we were too tired and contagious. I was so sad that we didn't get to go to these fun events.
Sunday, more sleeping and being sickly. This time with the rain from an "arctic storm" pouring outside. Rob briefly went to volunteer with the bike coalition, but they sent him back home pretty quickly.
At 3:00, we braved the outside world once more. This time, to watch a friend of ours perform in the Dance-Along Nutcracker. The downtown theater was packed with little kids in tutus, wands and crowns. During certain songs, the whole audience was invited to get up and dance in the aisles. There was a full band, a group of dancers of a certain age, some funny songs and a local celebrity cross-dresser playing Marley. The Wall Street Journal called it "…one of this city's most delightfully idiosyncratic events." Oh, San Francisco!
Back home in the rain for more couch time and clementine oranges. At 7, I decided I was tired of being sick and made Rob go to the Christmas tree lot with me during a break in the rain. Poor guy, he was still in his pajamas. Margaret came over shortly after with a batch of chicken soup. We decorated the tree and watched Spaceballs.