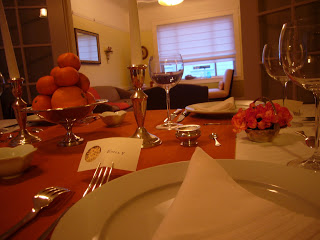 Weekend Round-Up: Homebodies
This was a fun and quiet weekend. On Friday, we met Matt at the climbing gym for some bouldering. After the work-out, he drove us to North Beach to see their new apartment. We had a nice Italian dinner at a place with homemade pasta on Columbus. Grabbed pastries at a little Italian bakery and had a pints of Guinness at a semi-famous maritime/beat generation bar called Specs. San Francisco!
Saturday morning, I slept in late. While I made breakfast, Rob ran to the store to get chickens for the night's party. We loaded up the tandem bike shortly after. Rode to the Presidio, down along Aquatic Park, around the Embarcadero, down to Mission Bay, to Trader Joe's for groceries and back home. 20 miles altogether.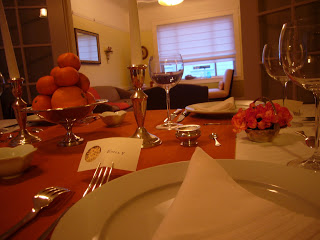 Party prep all afternoon. I set the table with lots of silver, a white tablecloth, orange runner, candles, ivory placecards and orange carnations. Margaret arrived at 6:00 for a pre-party and everyone else came over at 7:00. We had a lovely dinner together and talked over glasses of port until past 10:30. Margaret stayed late to help us wash and dry the silverware. A cozy night!
Sunday was raining and ideal for being lazy. After two weekends away and a very busy week, I needed the day off. Rob ran out for the Sunday paper and videos (He's the best! Just like that lovely plum cake scene from Amelie). Breakfast of coffee and oatmeal. Lots of dishwashing. For lunch, I made a quick casserole with some leftover chicken – cream of mushroom soup, green olives, the works. Mmm, not fancy but the perfect thing for a rainy Sunday.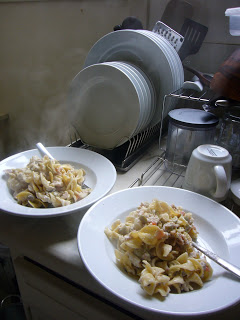 After lunch we caught up on the Daily Show, did laundry and washed more dishes. I stayed in my pajamas the whole day; blissful nothingness. For dinner, I used more leftover chicken to make a green curry. And I scanned in a bunch of old photos so we could get rid of the prints.