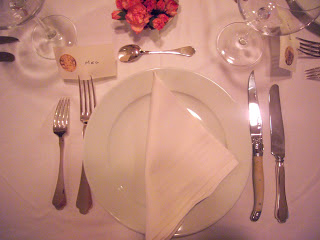 Party Recipe: Roast Chickens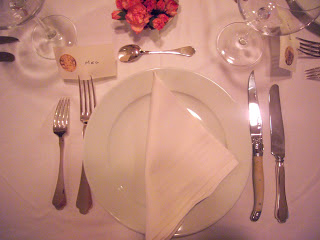 I'm officially a grown-up now that I've mastered roasting a chicken. Despite my procrastination and utter lack of attention to the recipe, the two chickens I made for Saturday's dinner party came out just right. Not to brag – literally, I have no idea what I might have done right – they were the best I've ever tasted. And the chickens were just one thing that went well at this party, here's the full recap:
Appetizer – Those blue potato chips from Trader Joe's are such an easy and popular starter. I paired them with two dips: yogurt chive and white bean pesto. I sabered a bottle of champagne to kick off the night.
Salad – I made a simple knock-off version of the classic San Francisco green goddess dressing; only with one anchovy, marjoram and much less mayonnaise. Mixed greens, avocados and pistachio crisps.
Main Course – Mark Bittman's pan crisped potatoes. Two glorious roast chickens on a silver platter in the middle of the table. And an easy mushroom wine pan gravy. Here's the instruction for the chickens:
Roast Chickens
Start with two chickens (all the recipes I saw called for under 3 pound birds, I could only find 5 pounders). I used this recipe and this recipe as my guides. The morning before the party, cut off the extra cavity fat, loosen the skin and slide sprigs of marjoram and rosemary over the breasts and thighs. Season with ample kosher salt and pepper. Put half a lemon, more sprigs and cloves of garlic inside each chicken. Refrigerate until ready to cook.

Preheat the oven to 450. Add the chickens and cook for 20 minutes, baste with a little melted butter and cook for another 20 minutes. Turn the chickens upside down and cook until a meat thermometer stuck well in reaches 165, about another 30 minutes. Remove from oven and let sit for 15 minutes.

Meanwhile, put the roasting pan on the stove. Mix a couple tablespoons of flour into the drippings to thicken. Then toss in two boxes of sliced crimini mushrooms, a dash of truffle oil, pepper and half a cup of red wine. Cook down in the pan and serve on the side.
Dessert – Trader Joe's opera cake with fresh raspberries. Spiced tea and a bottle of really good port.