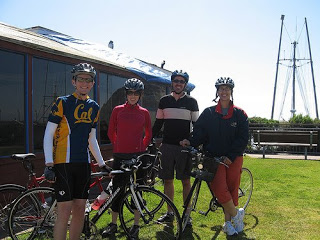 It was nice to take a quick dash down to San Luis Obispo for the holiday weekend. Rob and I left work a little early and picked up Margaret at work on our way south. We made it home at 9:30, had a beer and caught up with my parents before bed.
On Saturday morning, we went to Farmer's Market to shop for the weekend, for a walk with the dog by the lake and to breakfast at the local diner. Back at home, we quickly changed and hopped on the bike. We picked up Shane and then went together to get Margaret for our ride. Despite the warm weather, there were high winds and it was very challenging to make it out to Morro Bay.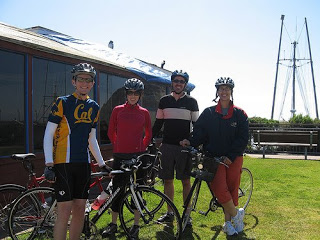 We warmed up at my favorite little seafood shack by the water and then rode back toward home. Much nicer with the wind at our backs on the empty country roads. All this late rain has resulted in amazing displays of poppies and lupine.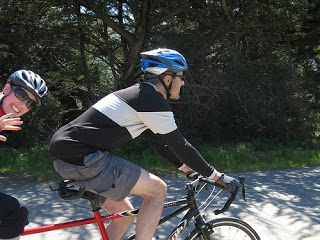 Back at home, we had just enough time to shower before Rob's sister and her family came over for pizza and egg dyeing. The secret to great Easter eggs: use bright oil pastel crayons to draw on the egg before dyeing. It was great to spend some time with those great kiddos. In the evening, we worked to fix my parent's computer.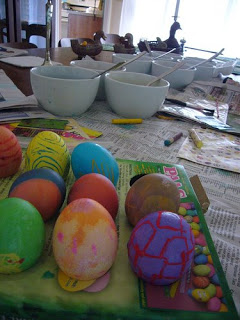 The next morning, we had waffles with fresh strawberries before church. It was fun to see all the old familiar faces at our little church – we have a handful of 90+ year-olds in the congregation.
Back home we quickly went to work to prepare for Easter supper. I made some pretty blue and yellow flower arrangements for the table, wrapped asparagus with goat cheese and prosciutto for the appetizer, and prepared spring greens – pea shoots and broccoli blossoms – for the salad: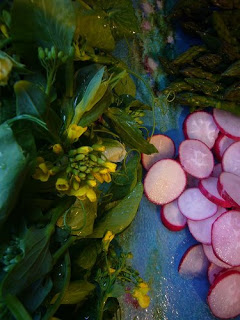 Guests started arriving at 2:00 and we had an egg hunt shortly after. Rob hid the eggs for the rest of us to find: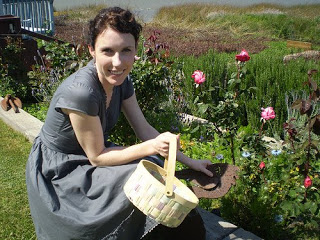 We had a great meal with lots of talk about the economy. At six, Margaret came by and we packed up to head back to the city. We made it home at 10:30 and crashed into bed.