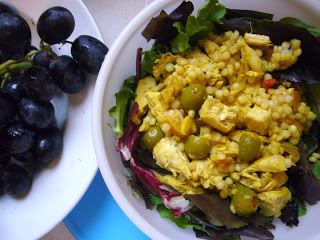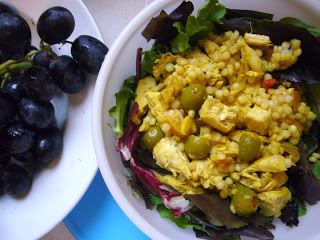 Just when I was thinking I was completely sick of this whole cold-salad-for-lunch kick, I stumbled across a new favorite.
On Sunday night, I tapped into my stock of preserved lemons to make a big batch of Moroccan chicken with preserved lemons and green olives along with a side of Israeli couscous. This bright and simple recipe is a dinner party standard of mine.
Afterward, I cut up the chicken and mixed the rest of the leftovers together to make an impromptu cold Moroccan salad for lunch the rest of the week. Delicious served over mixed greens with a side of those gorgeous black grapes.
Preserved lemons are the kicker in this recipe. Packed away with salt, cinnamon, cloves, coriander and bay leaves, they're an easy and tasty way to save a bounty of summer lemons for the rest of the year. And they make a pretty gift, too!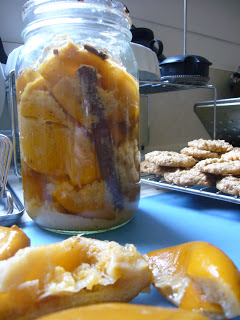 Preserved Lemons (about two small jars)
8 to 10 lemons, Meyer is preferred
1/2 cup of kosher salt or more as needed
2 cinnamon sticks
6 cloves
6 coriander seeds
6 peppercorns
2 bay leaves
Deeply score the top of each lemon into four, attached pieces. Rub with salt inside and out. Put a little salt in the bottom of each jar and stuff with as many lemons as possible, adding spices as you go. Press the lemons to release their juices. You should be topped up when the jar is full. If not, add more fresh lemon juice.
Seal the jars in boiling water per the canning directions. Give the lemons at least 30 days to cure before using. The resulting lemons last forever (I used lemons from a few years ago for the chicken on Sunday) and don't require refrigeration once opened thanks to the acidity.