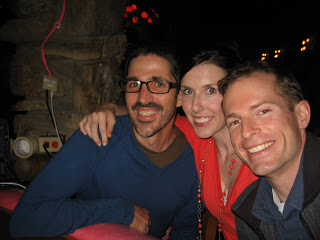 Weekend Round-Up: SLO Times
Another great weekend full of friends, family and big parties. This seems to be a theme for August.
My sister, Jean, arrived from North Carolina late Thursday night. She had a day to explore the city before we left for San Luis Obispo on Friday afternoon. We picked up Margaret in Burlingame on the way down and had a lively drive. Watching classic Sesame Street clips on YouTube is a great way to pass the time through all those farm towns. We arrived at the family home shortly before midnight.
Up the next morning for errands and breakfast together at the local diner. We scrambled to prepare and change for Jean's bridal shower. The lovely party was hosted by her friend from elementary school and started at 1:00. It was a great event! Just right for Jean. Photos coming soon!
Back home at 3:00 – we watched an AMAZING video that was put together for my dad's birthday. A lot of the footage of us as kids was shot on 16 mm film and hadn't been seen in decades. We had a nice pasta dinner together and a big apple pie for his birthday.
After the family celebration, Rob and I met up with friends at the Madonna Inn. This place really defies description. Think: pink pleather, gold cherubs, rock sculpture, animatronics, a live band playing jazz standards and blue-haired ballroom dancers. It's special.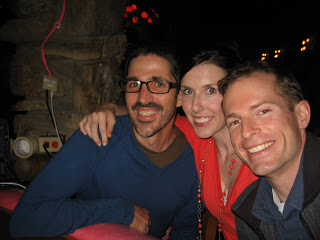 We sat at the bar with shirley temples and occasionally ventured to the dance floor for a slow waltz or swing piece. Back home around midnight.
Waffles, coffee and the Sunday Times the next morning. Rob and I joined Shane for a bike ride through Perfumo Canyon. A very steep climb to the top rewarded by a nice view of the coast.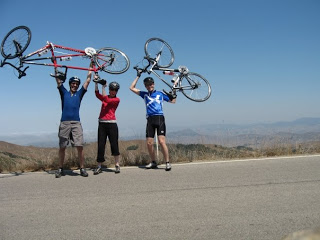 Back down the other side and around to the house for under 20 miles total. A short, but pretty epic ride. Just enough time for lunch, showers and chatting before we hit the road back to the city. Paul came over after we unpacked to give us a sneak peek at the wedding paintings. Cooked, cleaned, prepared for another busy week to start…