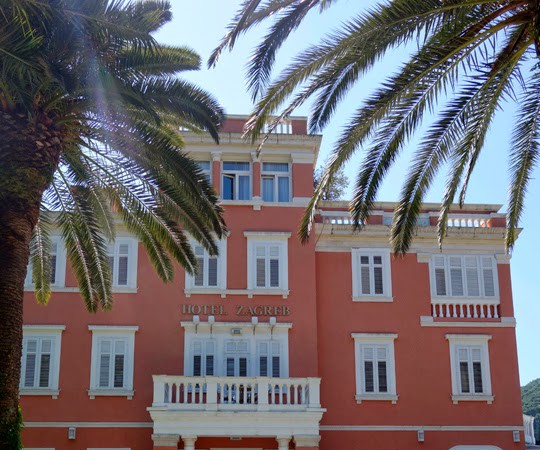 Walking and Swimming along the Coast of Babin Kuk, Dubrovnik
This was my favorite thing to do in Dubrovnik! So much so, that we did it twice. After you've gone to see the old city and walked Dubrovnik's fortress walls, spend the next day on the north side of the peninsula exploring Babin Kuk. The atmosphere down here is much more "Santa Barbara Resort" than "Middle Ages."
From Lapad, follow the pedestrian street Setaliste Kralja Zvonimira down to the water. It is lined with clay tennis courts, cafes and ice cream parlors where a cone of gelato costs only $1. Get some ice cream for breakfast.
Keep right once you hit the water to walk along the paved coastal trail.
There are plenty of staircases down to swimming platforms along the way. Or, you can stop at Cafe More for a macchiato and a margarita overlooking their swimming deck.
Nicole even got special permission to use their hotel lounge chairs after her swim.
It's worth ducking inside to see the Cave Bar.
Inside, a limestone cave has been converted to a bar that can fit up to 60 people. In that back room, there are glass floors looking down into a cavern and a ceiling of stalactites.
Once you're ready to move on, keep walking north along the trail. More swimming platforms, sailboats and tiny islands.
Pass through a couple large resorts and restaurants.
Keep walking until you reach Copacabana Beach and pull up a chair at the outdoor cafe on the beach.
Time for pizza and a marinated shrimp salad for lunch!
After eating, change into swimsuits again and jump off the cement dock into the brisk water.
Even Rob, who hates cold water, loved floating here under the view of Dubrovnik's bridge.
That's my dream villa over on the right side.
When it's time to head home, keep walking along the coast through the villas and farms of Solitudo. You're back in the main harbor before you know it. With giant cruise ships docked on the other side.
There are some nice restaurants here along the water if you're ready for dinner, or walk home through the neighborhoods full of kitchen gardens and roses back to your apartment.