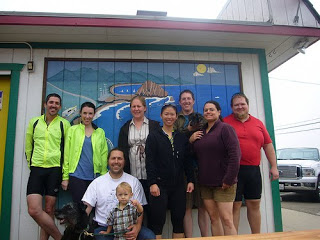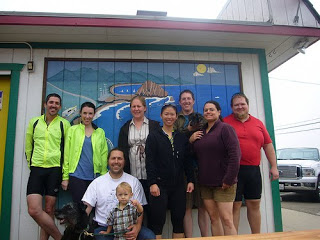 Before we get started with the details of Tour de Emily – a few introductions. We had the best team for this adventure – a handful of riders and a support crew to match. From left to right:
Team Tandem – Rob and I rode on our sweet red bike the whole way. Rob – The Captain – did all the hard work of planning and coordinating.
Greenwood Support Crew – Rich and Molly with baby and dog provided crucial RV support at each stage. Rich volunteers often for triathalons and is a real pro.
The Chizzle – Jackie earned this nickname by chipping away at all 300 miles with speed and endurance.
Downhill Demon – Seth rode halfdays with us for each stage. He loves downhill speed and we often lost sight of him speeding at 50 mph down a slope.
Day Trippers – Amy rode two half days and Fred rode one day of the tour. Amy provided support in her big blue truck. Margaret also joined the support crew for the first two days of the ride.
About the Tour – We came up with the idea for the tour earlier in the year. A group of my friends from high school are all turning thirty this year and we each wanted to do something big before the milestone. The concept of "Tour de Awesome" was born: each person puts on a stage (Tour de Emily, Tour de Jackie, etc) with some big adventure to share. I'm the oldest, so my stage was the first.
About the Ride – From San Francisco to San Luis Obispo. Five days, 300 miles. Not a single mile skipped by car.