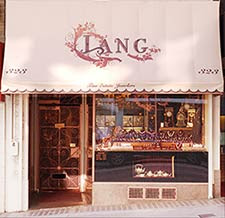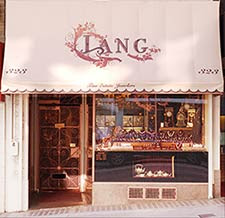 This was a fairly quiet weekend, but one that included some of my favorite things!
On Friday, Rob and I both had to stay a bit late at work. Finally at home, we had a spaghetti dinner, watched Hulu and turned in early.
Rob woke up the next morning before six for an all day brevet race with the San Francisco Randonneurs. He took his bike 120 miles, to Point Reyes lighthouse and back! While he was hitting the road, I was being thoroughly lazy. Mint tea and toast with honey and butter in bed along with a New Yorker.
At 11, I took the train downtown. First stop was Lang Antiques to drop off my ring for repair and drool over their display cases. I could spend hours there! Next stop, Gumps. I redeemed a couple gift certificates for wedding china and investigated their holiday offerings – they have some really fun gifts this year. I was shopping at Macy's when I caught up with Margaret and visiting friend, Jonathan, from Kansas. We had cream puffs from Beard Papa in Yerba Buena Park.
More shopping after the cream puff break, I still hadn't found my flat boots or anything else. Nearly bought these Nine West boots but decided to wait for a sale. At Bloomingdales, I hit the 40% off of clearance item sale and score big with an Aqua skirt and a BCBG dress, both for over 60% off.
Back at home, Rob returned from his ride an hour ahead of schedule. He was in the top 10 fastest times from a group of 64. Go Rob! We cleaned house and finished the wedding album before Margaret and Jonathan arrived for an early dinner. All four of us walked up to a fairly new French restaurant on Haight Street called Bistro St. Germain. A nice bourdeaux to share and a huge pot of moules frites for me! Back at home, we had coffee and It's-its for dessert. We had fun with a big world atlas pointing out places we'd been.
Another lazy morning on Sunday. Coffee and oatmeal along with the Sunday political roundtables. Rob and I did a load of laundry and had lunch a the neighborhood taqueria. We met with Matt at the climbing gym after lunch for a bit of bouldering practice. On the way home, Rob and parked the bike on Valencia Street to shop for couches. We also stopped at my favorite produce market on the way back. We had one loaded down tandem bike by the time we reached the driveway.
Cornish game hens with mashed red potatoes and fresh fava beans for dinner – yum!