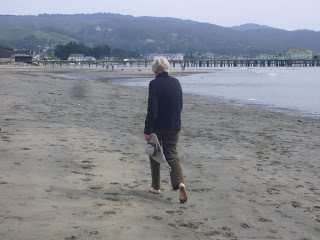 Weekend Round-Up: Beach Time
We were in Half Moon Bay for less-than-happy circumstances – a young family friend is having health problems. I'm not at liberty to say more, but my parents and sister spent the week at the hospital before coming out to the beach. Everyone was in need of a break.
On Friday night, Rob and I drove down to Half Moon Bay in time for a take-out dinner for El Gran Amigo. Best al pastor on the coast! Some hot-tubbing and then to bed early. The next morning, we brought back breakfast pastries from Moonside Bakery and then split off for walks around the bay.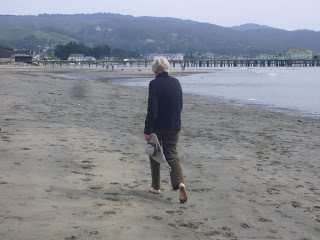 In the afternoon, Jean braided my hair into a kind of norwegian wreath (sisters…) and we went to the local fish market for dinner supplies.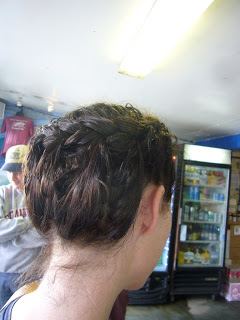 Amazing fresh fish from the Half Moon Bay Fish Market – the owner befriended us after an earlier stop for sea bass and loaded us up with way too much crab and bread. Jean conversed with the 20lb salmons.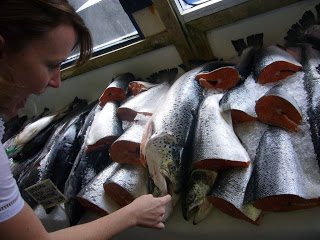 Rob returned from his dash into the city and we took Jean kayaking at 3:30 around the bay. Just in time for a little sun to come out.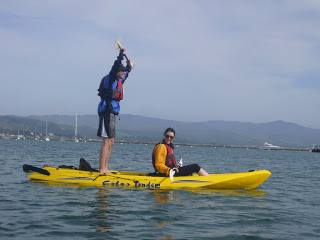 Back at the rental house, we had a HUGE dinner starting with local smoked salmon, then artichokes and crab. There isn't much of a nightlife in Half Moon Bay – the hottest ticket in town was the local high school musical production of The Unsinkable Molly Brown. We got seats right in front. An…enthusiastic…production with no less than 25 students on stage for each dance number. Very charming for being a little rough around the edges. Go cougars!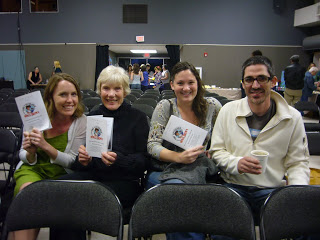 Big breakfast the next morning as we packed up to head back home. My parents and Leslie left at 11:00 and Rob and I took Jean north for the day. A stop at nursery in Montara and then in Pacifica for a walk on the beach.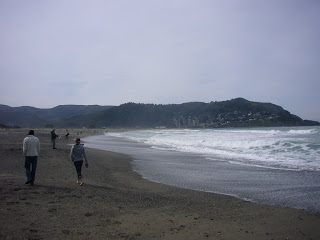 Back in San Francisco, we dropped off the gear from the weekend and went to Sports Basement. From there, out to Walnut Creek to visit our friend in the hospital and back to the city by 3:30. We walked down to the waterfront to look at boats in the evening and ended up having dinner at the Fog City Diner – a classic SF spot that I've always wanted to try. Dropped off Jean at the airport at 9:30 to cap the weekend.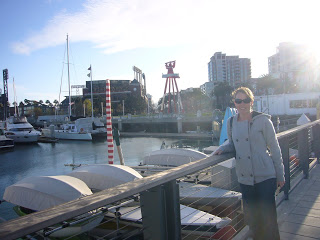 How did we manage to fit this all in to two days? Daylight savings can be the only explanation. It doesn't seem possible to me.