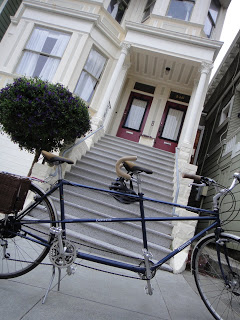 Weeked Round-Up: City Families
This weekend was full of friends and families – and even a little warm weather. On Friday night, Rob and I rode the tandem bike out to Cole Valley to see our friend Jill & Peter's new home. A great flat with a deck perfect for BBQs! (top and last photo from Rob's wrongbike.com)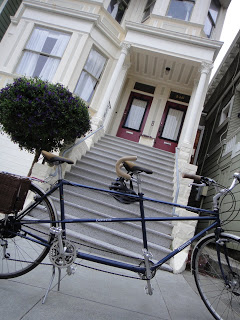 Out of the house early on Saturday morning. I drove down to San Mateo to hang out with Margaret. We ran errands in San Mateo and had lunch at a super tasty Japanese ramen house.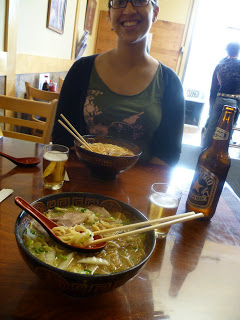 Shopping, pedicures and a stop to buy homemade Russian pickles before driving back up to the city. Margaret's roommates were out of town so I convinced her to come up for a sleepover. We met up with Rob at the house and walked together to the movie theater to see The Other Guys. Goofy film, but I laughed straight through. Pints together afterward at Kate O'Brien and a swanky new place on 1st.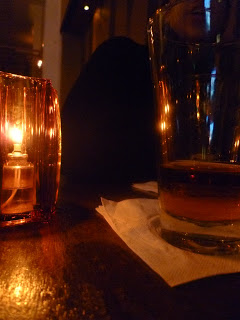 Up on Sunday morning to see blue skies in the city! An actual warm summer day for the first time in what seems like three months. Rob left to go volunteer with the Bike Coalition. Margaret and I had blueberry pancakes for breakfast. At mid-morning, we walked downtown to shop for jeans. After visits to H&M, Banana Republic and Ted Baker, I found two perfect pairs of skinny Levi's at Macy's.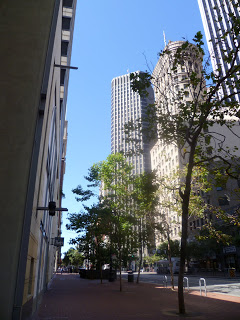 Margaret headed home after we finished the shopping trip. I jumped on the trainer for two hours of spin. Rob got home at 4:00 and we turned around quickly to hop on tandem and ride to North Beach. Our friends Matt and Amber are about to move to Seattle – so we met up with them for one last classic SF taco dinner with their twins.
Back home through crowded Fisherman's Wharf. Such an amazing, warm night! A quick detour out to our favorite pier on the way home. A big moon, clear bay and bright city lights. Isn't it romantic 😉