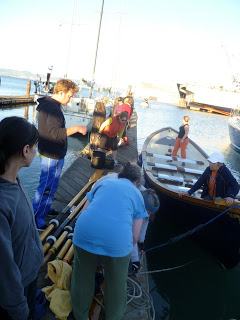 Living near the water is my absolute favorite thing about our current apartment. It is so sweet to walk a couple city blocks and make eye contact with a seal.
So, when a friend from the old neighborhood invited me to a whaleboat row with The Embarcadero Rowing Club – I knew I had to give it a try. Kellie and I loaded into the 26 foot Renegade with six other rowers, eight giant heavy oars and two coxes. Did I mention how heavy the oars are? Basically, you're trying to keep in line with four other rowers with a small tree trunk under your control.
I had a few hiccups at the start, but it was a beautiful evening on the bay and we managed to follow all the instructions pretty well. My arms are going to be SO sore tomorrow.