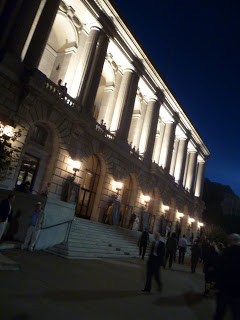 Weekend Round Up: Tourists
What a weekend! A heat wave, a fantastic opera, an a couple days of playing tourist in the city. First, Rob and I went to our first opera of the new season. Such a fantastic evening! I'll tell you more about the show in a seperate post.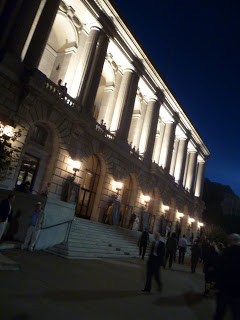 The next morning, Rob had to leave for work early (this job transition is means he has to work on weekends for a while) but brought me figs and coffee in bed before he left. After reading for a while, I jumped on the trainer to spin and catch up on all the new tv posted on Hulu. I cleaned house and also tested out some wood veneer craft projects for the LAC party on Tuesday.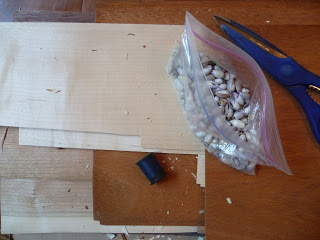 In the afternoon, Lauren swung by and we headed to Pier 39 for some tourist action. It was too hot to walk, so we grabbed a pedicab ride along Embarcadero. Thanks to Yvette's visit last weekend, I had two free passes for a bay cruise and the aquarium. I never turn down a free ticket! So Lauren and I hopped on a boat to go under the Golden Gate Bridge and around Alcatraz with two cold corona beers. It was nice and cool on the water.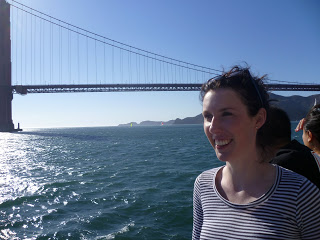 We completed our tourist visit to Pier 39 with classic clam chowder in sourdough bread bowls for an early dinner.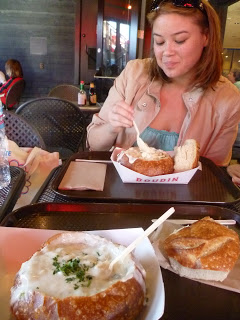 Walked home across the city after our bay adventure, picking up a couple bags of groceries along the way. Rob met me at home in the evening and we had a big green salad for dinner. Up too late reading.
Rob had an early start the next morning. I was set with coffee and the Sunday paper. At 10:30, Yvonne picked me up for the Aquarium of the Pacific. This small aquarium does a pretty good job, with walk through tunnels, giant schools of sardines and touch pools. Tough competition from the Academy of Sciences and the Monterey Bay Aquarium – but not too shabby.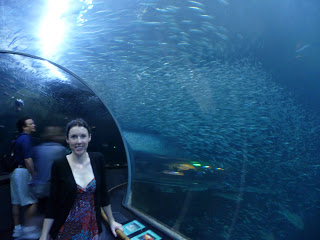 Back downtown with Yvonne for a little shopping. Perfume from Bloomingdale's, thai lunch in the basement, adorable baby clothes from Janie and Jack (Yvonne is due in November), stationary from Anthropologie and a couple basics from Old Navy.
Yvonne dropped me off at 2:30 and I browsed throught the rest of the paper for an hour. At 3:30, I hopped on the subway to check out the Civic Center farmer's market. Amazing! So much fresh produce with such low prices. I was in veggie heaven! Back on the subway with about 15 pounds of goodies. Quick drop by the hardware store for a new hose. Along my walk home, Margaret called saying she was in the city.
At home, I made a big pitcher of white peach sangria to share with Margaret. Bossanova on Pandora and chips and salsa. A perfect way to cool off after a busy day!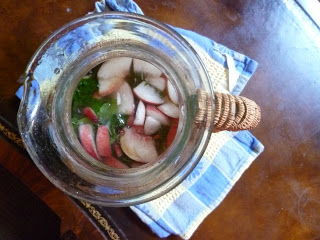 Rob came home and I made a big stirfry with a mix of produce from farmer's market. Preparations for the busy week ahead!