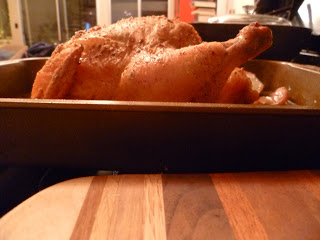 Recipe: Christmas Chicken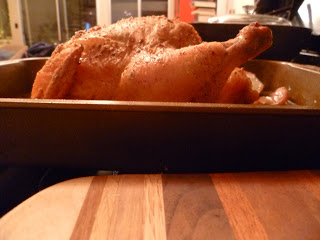 Roast chickens are so easy and work for at least a round of leftovers before turning into delicious soup. This week's recipe had a bit of a holiday flair that I think will be a new tradition!
Christmas Chicken
1 high quality whole chicken (about 4 lbs)
1 satsuma orange or similar
1 large clove of garlic
1/4 cup of kosher salt
2 teaspoons of pepper
1 heaping teaspoon of nutmeg
Pre-heat the oven to 450. Prepare your rub first. Zest the orange and the garlic with a microplane. Mix with the salt, pepper and nutmeg in a small bowl.
Next, the chicken. Ditch the giblets and drain the chicken of any juices. Trim off the extra skin and fat at the opening with kitchen scissors. Run your hand between the skin and the meat of the chicken to loosen it. Rub about half the mixture under the skin. Truss the chicken legs together and rub the rest of the mix on the outside. Make sure you get enough salt on every part including the underside.
Roast until a meat thermometer deep in the chicken breast reaches 150, around an hour. Let the bird rest for about 5 minutes before carving up.