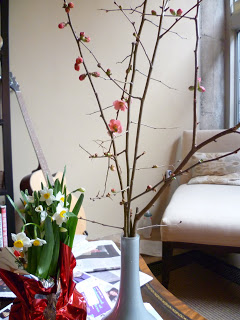 Guide to Auspicious Flowers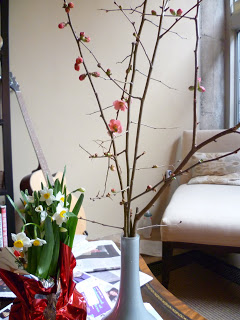 I love Chinese New Year – it seems to be exactly the right holiday at the right point in winter. Just when things seem bleak, there are flowers, dragons and fireworks! This year, I got two "auspicious" plants at the flower market:
Peach blossoms
– Symbols of growth, prosperity, long life and romance. I learned a lot about these from a woman at the fair also buying branches – it's very much like picking out the perfect Christmas tree. She said they'll bloom through March and that the structure of the branches is very important. This group has a healed-over broken branch that is still blooming – a very lucky sign for resilience! In some homes, lucky
red envelopes
are hung from the branches.
Paperwhites – They smell so good and the golden centers are tied to the same coin-inspired "money luck" that make yellow mums and citrus trees popular new year choices.
Peanuts (long life), red gladiolas and azaleas (luck), money trees (prosperity), pomelo (abundance), bamboo (luck), orchids and pussy willows are also popular choices if you're thinking of decorating for Thursday.