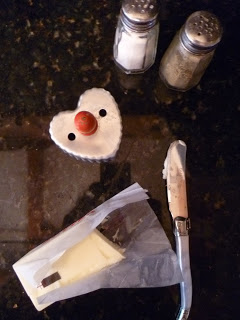 Weekend Round-Up: Valentine's
This was a great weekend! Lovely weather, lots of time with friends and plenty of relaxing. I stayed at work late Friday for my annual review. Rob and I had a quiet night at home that evening.
On Saturday, we had a nice breakfast of egg-in-the-basket with sourdough bread and a heart shaped cut out.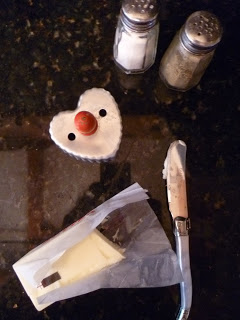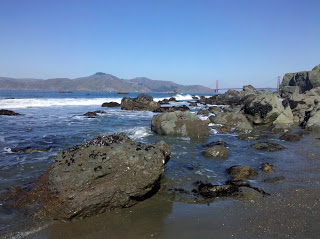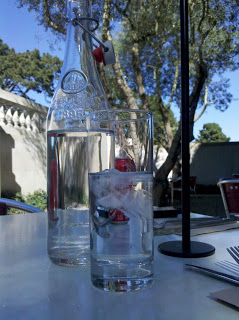 Back home from the park in the afternoon. We swung by Trader Joe's and saw a famous model (no idea who) at Bed Bath & Beyond (a store I consider to be the seventh circle of hell). Tofu with green curry for dinner – we exercised and watched Dial M for Murder on DVD.
Coffee and the paper the next morning. Rob had to leave for work at 8:30, but I stayed in bed until 10:30 reading. To farmer's market at 11:00 – I brought home tangerines, grapefruit, cilantro, parsnips, broccoli, flowering greens, red cabbage and crumb cake for about $10.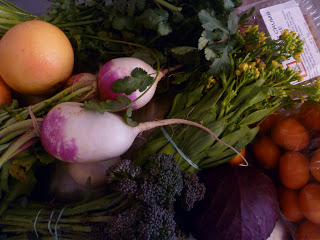 I had invited Margaret and Lauren over for a "ladies lunch" – that, of course, turned out pretty fancy by accident. I thought it would be fun to use the china and silver for the three of us. I made a chicken curry salad with parsnips and pepitas served on mache lettuce. We had nice glasses of cold white wine with lunch and followed up with the crumb cake. Lauren brought her little dog, Maddie, who was a perfect lunch guest.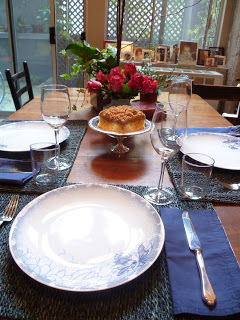 Lauren headed home at 3:00. I washed the silver and then Margaret and I walked downtown for some shopping. I picked up a couple sweaters and belts at H&M and Zara. Then to Anthropologie, where I got a really cute pair of booties on sale. Back home at 6:30 for a black bean taco dinner with Rob.