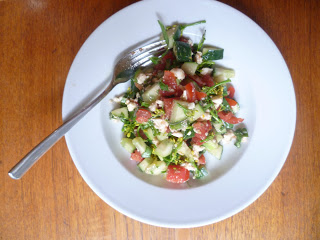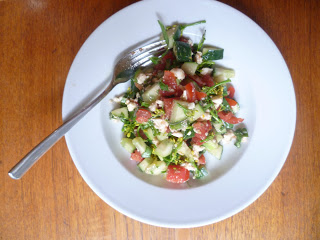 I could eat gallons of this salad each summer!
Greek salad
Serves two as a meal or 4 as a side
3 medium tomatoes
1 cucumber
1 cup of choy sum (or greens of your choice)
1/4 cup of chopped fresh basil
1/4 cup of crumbled feta
Dressing:
1 tablespoon olive oil
1/2 tablespoon of balsamic vinegar
1 clove garlic, microplaned
1 teaspoon of lime or lemon juice
Tiny bit of truffle mustard (I just dip the fork)
Salt & pepper
Chop your tomatoes (removing the seeds) and cucumber (keeping them) and add the basil and choy sum. Mix your dressing with a fork and toss over the salad. Top with a good amount of feta cheese and dive in. It's even better if you have the patience to let it sit for 30 minutes in the fridge before serving.