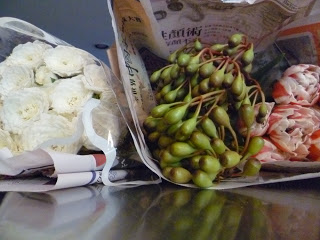 Weekend Round-Up: Around Town
This was a fun weekend "off" from our normal adventures. On Friday night, relaxing at home. I had a bad headache all day and needed a quiet night.
Up pretty early on Saturday morning. After breakfast, I walked over to the Wholesale Flower Market to show Janice, a reader, the ropes for her wedding flowers. And I picked up a couple things for myself while there. So cheap!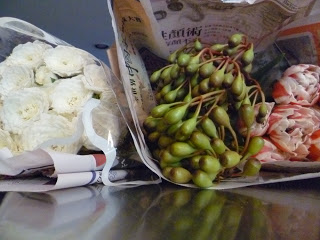 Back at home, I made arrangements and Rob returned from his morning bike ride. We walked over to South Park for the
Public Bikes
first anniversary party. Fun event with margaritas and beer in the back, a photobooth, races on the street and
American Grilled Cheese Kitchen
in the front. Kids and dogs everywhere.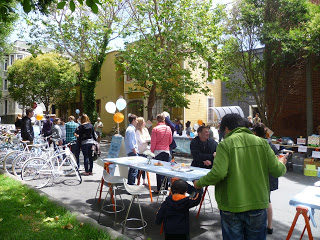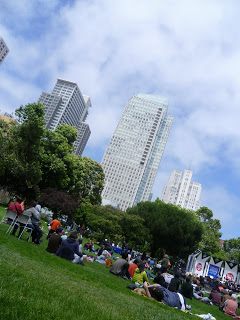 Back home for naps and then coordinating dinner plans out with Sean and Margaret. We ended up on Ethiopian in the lower Haight, a favorite!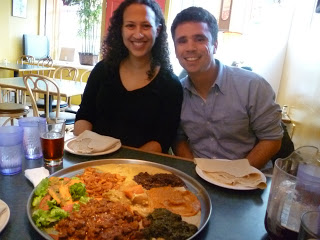 After dinner, we grabbed
it's-its
ice creams and pints at
Danny Coyle's
next door. Back home by train in the evening.
On Sunday, we got up early and watched the Tour de France before driving to Hayward for a
Bay Area Orienteering Club
race in the redwood park. Rob and I had a great time running all over the park for few miles. Forgot the camera, oops.
Then, to Ikea for more navigational challenges. I just love Ikea! Lunch in the cafe, we looked at some chairs and went home with shelves and little trinkets. Then, to Trader Joe's for a big stock-up and back to the city at 1:30. Rob went to volunteer parking bikes at the Giants game at 3:00 and I walked to farmer's market for more groceries.
Back at home at 4:00, I went on a spring cleaning rampage! Washed and cleaned the kitchen cabinets, scrubbed the refrigerator, dusted everything, polished silver, hung art, caught up on letters…you name it. Aside from a brief break for dinner, I cleaned straight through to Rob returning home at 9:00. Whew! A lot of work, but it feels great to have the house in shape for summer visitors.