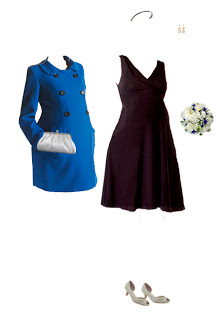 What to Wear: Courthouse Wedding
There's something so romantic and simple about a courthouse wedding. Reader Zakary (isn't that cute!) has the big day coming up quickly:
I need help! I am slightly pregnant and getting married at the courthouse next week during the day. I'm only 3 months along, but I might be having twins!

I found this lovely dress from Mimi Maternity. However, I need some shoes, a clutch, and perhaps a little shrug or jacket, as I live in Colorado and it gets chilly here in the p.m. No wedges or super high heels…I do not want to tower over my husband! My daughter is wearing a gorgeous yellow dress.
Zakary's basic black dress is a great canvas for some classically elegant accessories. Here's my recommendation for the glowing bride:
Dress – A perfect basic and on sale to boot.
Coat – Adorable! This coat strikes the perfect festive, classic and vintage tone for a celebratory afternoon. I wish they had it in non-maternity for me!
Shoes – Kitten heel pump with a low-key wedding style.
Clutch – An elegant little evening bag from JC Penney.
Earrings – So romantic and delicate!
Headband – Instead of a veil or tiara.
Bouquet – A necessary indulgence. Most florists will gladly put together a hand-tied nosegay on short notice. And have a second smaller arrangement made to match for your daughter.
Congratulations Zakary and family! You have all our wishes for a great wedding and a happy future together!