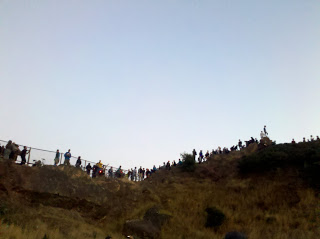 Weekend Round-up: We're #1
What a weekend! San Francisco loves exercising and eating and when the weather is warm…we tend to do even more of both. I think I have about 70 miles on bike and 15 on foot logged for the weekend.
On Friday night, Rob and I geared up to meet friends at Bike Party. We rode to the top of Randall Museum park, to Dolores Park and eventually to the new triangle park in front of Axis Cafe. It was a fun night full of SF bike royalty including Gary Fisher and the founders of Public Bikes and Monkey Lights.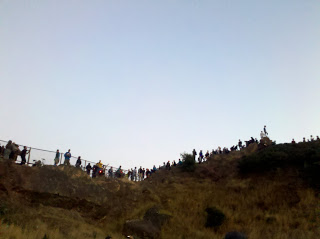 Saturday morning, we watched the first stage of the Tour de France and Susan picked me up at 10:30 for a hike in Marin. We grabbed Margaret on the way out of town and over to Tennessee Valley. Didn't bring my camera on the hike, but it was gorgeous. Four miles round-trip, followed by a wonderful après-hike lunch at Fish. We went to town: cold rose and beer, ceviche, BBQ oysters, crab roll, fish and chips and fish tacos out on the sunny patio.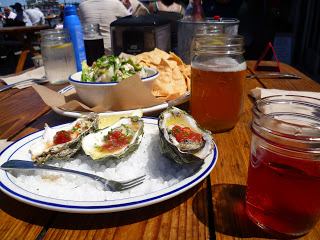 Back home around 4:00, I was done for the day. I cleaned house, made friendship bracelets, played ping pong and had a quiet dinner with Rob. To bed early, because we had an early start on Sunday.
Rob and I biked over to Crissy Field at 9:00 for a Terra Loco orienteering race. We signed up for the 5k, not sure what to expect and I stubbornly refused to run even when everyone else went sprinting off. Here we are at the second to last marker of the race overlooking the bridge.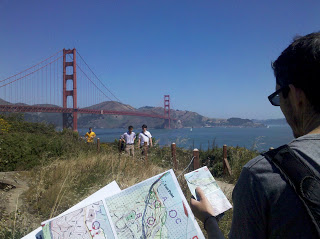 When we came in to the finish, there was a big shock: We came in 1st! I don't think I've ever won a race in my life and I have no idea how we won this one. There were all sorts of runners and pro-looking people in our group but we were still 15 minutes ahead of the next team. There's a shot of us on the Terra Loco Facebook page looking quite surprised at our victory.
To celebrate, we put our Sports Basement coupons to good use. I got new sneakers, a cycling jersey, a hat, sunglasses and purple jacket that is very "bieber." Quick stop at home and back out on bike to farmer's market. All kinds of lovely fruit and baby vegetables.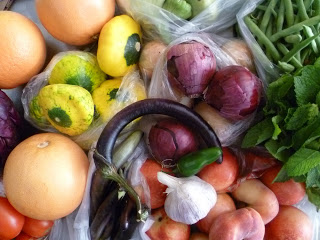 Seth and Amy planned to come over for dinner at 6:00, so I went to work making aioli, grapefruit watermelon salsa and white nectarine ice cream from scratch for our feast. We had a very nice time with them and the baby. Many rounds of dominoes into the warm evening.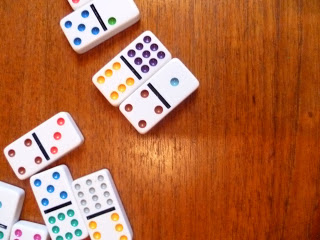 Monday morning, up early again. Rob went for a bike ride and I got to work on reviewing some marketing materials for my parent's company.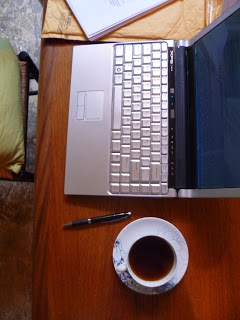 We watched Tour de France and had egg tacos later in the morning. Finally motivated at 11:30 to go to the Jewish Contemporary Museum but it was closed for the holiday. So we grabbed burgers and garlic fries at Super Duper instead.
Rob and I made plans to meet Margaret and Sean at the beach. We loaded up the tandem cart with beach chairs, umbrellas and other supplies – but once we got to the park, you could tell the fog was in at the coast. So quick change of plans to relax in a meadow off JFK Drive instead. It seemed like absolutely everyone in the city was out in Golden Gate Park. So nice to sit with a New Yorker magazine in the sun for a couple hours. We played backseat umpire to a casual wiffle ball game and chatted with some friendly toddlers.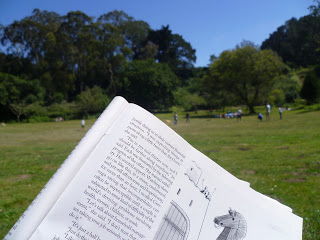 The fog crept further inland so we were back home again on the bike around 4:00. Showers and relaxing before heading out again on bike at 8:00 for firework viewing with slices of pizza on Margaret's Russian Hill apartment building roof. Great show, pretty crazy ride home with the other tens of thousands of people leaving the bay. Next year, we'll have to make it a sleep-over!