Weekend Round-Up: Birding
Rob's parents came to town this weekend for a visit to mark the end of summer and track some birds. We started out on Friday night with dinner at Plant, a great waterside restaurant for visitors. Very foggy ferry ride out to the island. We started our hike on the south side and got a tour from a nice docent dressed as a Civil War soldier. By the time we made it to the beach on the East, the sun had come out!
Picnic lunch at the East Garrison with Acme bread, Cowgirl Creamery cheese, tomatoes, cucumbers, sausage, nuts, raisins and olive tapenade. The birders spotted all kinds of hawks on the island.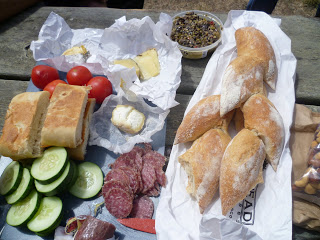 Ferry back home at 4:30. We accidentally took the wrong boat and ended up walking home from Fisherman's Wharf, with a break for ice cream halfway home. Rest and showers at home. Huge fondue dinner at Matterhorn that night. Delish!
Up early the next morning to head out for some bird watching. First stop: Heron Head park, a wetland preserve down in the industrial Bayview side of town. Lots of cute, tiny sandpipers and oyster catchers.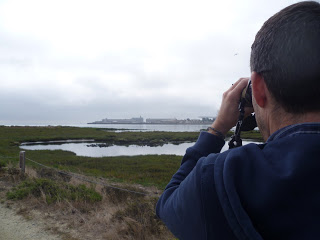 Lunch at the
Ramp
in the sun. Fish and chips and dungeness crab louis salads with iced tea. From there, back in to the fog out at Sutro Baths on the other side of town. We toured the crumbly ruins of the old bath house and counted cormorants on the rocks offshore.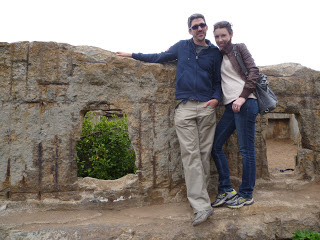 Quick stop at Farmer's Market on the way home. Rob's folks bought purple long beans and a guava melon for the road. We had a rest at the apartment and then they headed back to Fresno at 4:30. Rob went for a bike ride with his friend Corey while I lounged about at home. Sangria with nectarines for his return. I made orange chicken, rice and a salad of yellow plums, Korean melon and cucumber for dinner.