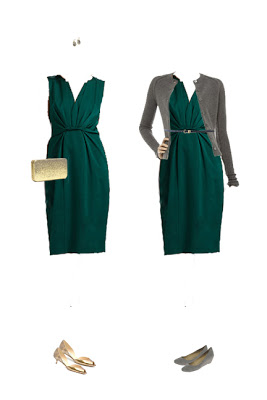 What to Wear: Power Dress for a Reunion, Wedding and Conference
Cara has a big month ahead of her and needs help finding a dress:
Next month I'll be traveling from New York (my home) to Illinois for my high school reunion, then from there to Minneapolis for a business conference where I'll be presenting a paper, and then directly to Malibu for my cousin's wedding. I'm hoping to be able to wear the same dress for at least two of these events, but they're all quite different. And September in Illinois and Minnesota can be quite different from September in Malibu!

I'm very bad at picking out dresses. I hardly ever wear them – I work in a lab so I have to wear pants to work. I know I look terrible in any belted dress (perhaps because I'm very high waisted) but I often like empire waists. I'm 5'7, size 10, with red hair (i.e. no orange or pink – I'm not one of those redheads who can rock a pale pink). And I will fall down if I attempt to walk in anything more than a kitten heel. I'm willing to splurge a little if I can get some wear out of a dress – I have several weddings and related events in the next few months.
All these events require one seriously gorgeous dress. One of those dresses that you will remember 10 years later. An epic dress in dark emerald green for our lovely redhead! I think Cara can make one dress work for all three events (disclaimer: I have no issue with being a touch overdressed).