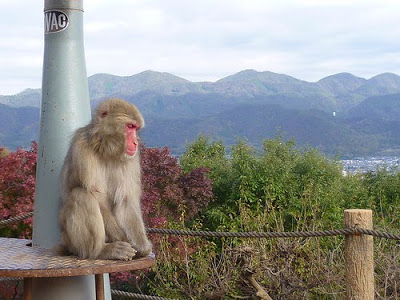 Our friends who live in Japan, Alex and Mayumi, invited us to meet them in Arashiyama, a wooded neighborhood outside of Kyoto, for the Labor Day holiday during our visit.
Our first stop in the early morning was a monkey park. I wasn't sure what to expect but it was really great. The monkeys roam free on top of a mountain and, like everyone else in Japan, are extremely very well behaved. To feed them, you go inside a screened hut and pass apples and chestnuts through the grates. The rest of the time, you just wander around together by the koi pond and amazing view of Kyoto.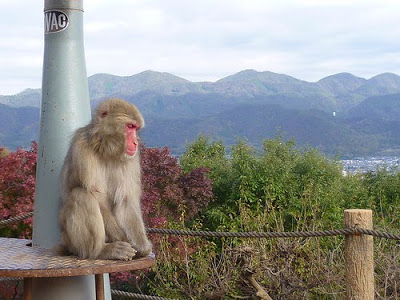 Down the hill, we went to the Tenryu Temple to wander the buildings, view painted screens and scoot through garden paths in our socks (is it just me or is wearing socks outside a childhood thrill?).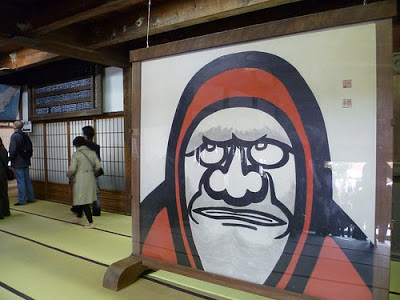 Local tree-spotters were out in force to catch the red maples on the holiday and I also took a million photos of leaves! The bamboo groves were pretty too. With our friends to help, we got a lot of potential Christmas card shots: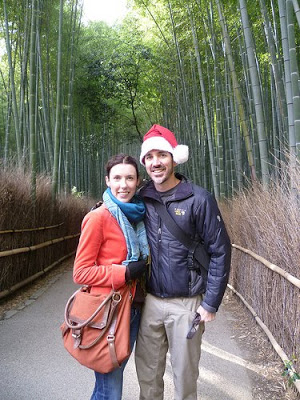 Mayumi used to have a restaurant and is serious about Japanese food, so we left the lunch choice up to her. She took us to an incredible place. I have no idea what it's called but through the magic of Google Maps, you can see the location and even street view here. We sat in a traditional tatami room with a view of a manicured garden, right behind that tree: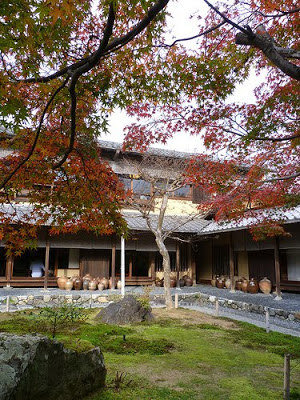 Lunch had about a dozen plates: pickled vegetables, cold soup with a poached egg, hot soup, tofu skin with lemon sauce, tofu "omelet" dumplings, dried fish the size of grains of rice, tiny portion of sweet ground pork, a special kind of tofu made with sesame, tempura vegetables, rice…and the main course: tofu cooked in a seaweed broth at the table, fished out into tiny dishes with soy sauce, fresh ginger and green onions. It was the simplest, best, dish: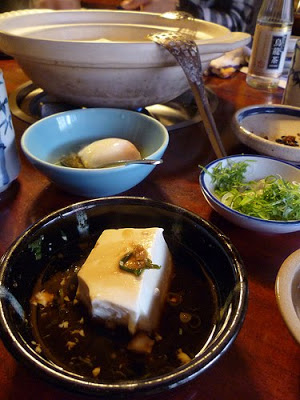 After lunch, we took the train back to to the other side of Kyoto for a stop at Kiyomizu and walked through the historic streets around the site until the late night. It seemed like all of Japan was out for the holiday, exploring and dressed up in finery. I especially like the diversity of kimonos, these two young ladies had quite modern patterns and styling: