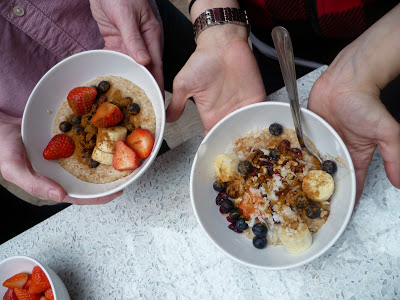 Party Recipe: Oatmeal Bar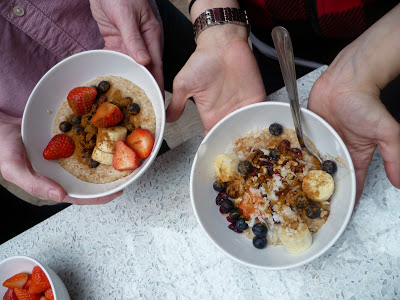 So much for a little between-holiday downtime. We seem to be racing toward 2012 at the speed of light. Lots of friends have been in town visiting – so there have been big crab dinners, rock concerts and late nights drinking champagne.
On Friday, I helped put together a birthday breakfast for a member of my team at work. It was such an easy success that I thought I would recommend it here in case anyone needs a New Year's party idea.
Get a large tin of steel cut oats and cook according to directions. You can soak it overnight or use a slow-cooker to make preparation even easier. I added cinnamon, brown sugar and orange zest to the oatmeal once it was close to serving.
Have each guest bring a topping to add to your bar. We had bananas, blueberries, strawberries, shredded coconut, pecans, dried cranberries, dates, brown sugar, maple sugar, cinnamon and delicious orange ginger honey my cousin made. Serve up your oatmeal in giant bowls and cozy up around the tree.