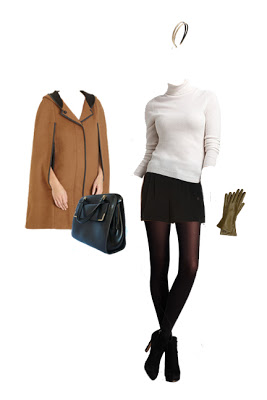 What to Wear: Back to Work
The first day at work after the holidays is back-to-school for grownups. It's a great chance to start the fresh year with some fresh duds. I've been hitting up the online sales at Bloomingdales, Nordstrom and Barneys – all easy to do local returns when things don't work out…as capes are apt to do.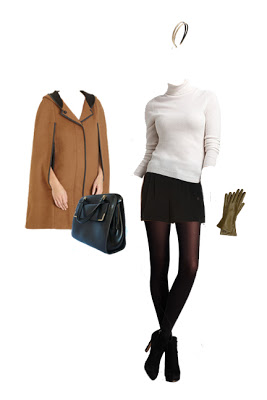 Cape – This is either awesome or a terrible idea. We'll see when it arrives. Thank heaven for free returns!
Sweater – White cashmere turtleneck on sale from Bloomingdales.
Shorts – High waisted shorts with tights is the new pencil skirt?
Tights – The super opaque line from Hue is the best.
Boots – I'm wearing flats for my walk to work, but these suede boots are adorable.
Handbag – Vintage french handbag in black.
Gloves – In olive green leather.
Headband – An easy way to dress up a loose bun.