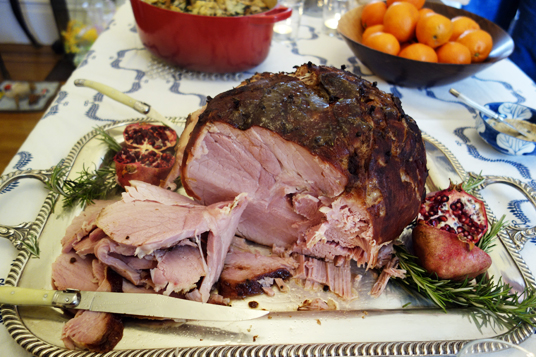 A giant ham is the traditional centerpiece of our holiday brunch party. This year's was a doozy – 18lbs of boneless "deli" ham from Robert's Corned Meats down on Bryant Street. We served 30 people with this guy at the brunch, and then another 12 people the next day at a small party for my co-workers. And there's still a couple pounds left.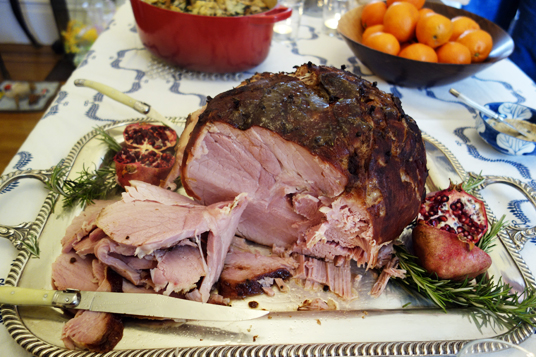 To prepare the ham, we take it out of the plastic wrap the night before and remove the cheesecloth netting from the exterior. Since the ham is boneless – I've found that trussing it with kitchen twine helps prevent it from splitting and expanding in an unruly way while cooking. Make a quick paste for the glaze with a cup of brown sugar, tablespoon of mustard, juice from an orange, a minced clove of garlic, pepper, cinnamon, nutmeg and allspice. Cover the trussed ham in the paste, stick in a handful of whole cloves on the top and cover with foil. Store in the fridge until you're ready to cook.
In the morning, bake the ham at 350 degrees for 15 minutes per pound. So, 4.5 hours for our ham. Remove from the oven and let it sit for about 30 minutes before removing the twine and carving. Serve with crusty bread and truffle mustard.