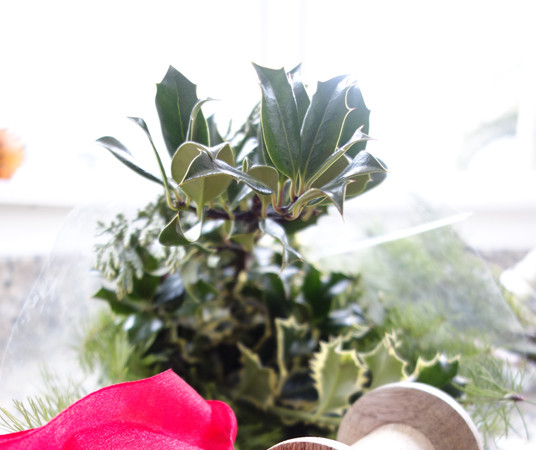 To Do: DIY Christmas Garland
I love the look of a Christmas garland – but the fresh kind is expensive ($3/foot here in SF) and the faux is a little too bulky for my taste. So, instead, I made my own garland this year using just a few dollars of supplies and little elbow grease.
Supplies:
Ribbon (I used 20 feet of red velvet ribbon purchased for $6). It made enough for the kitchen windows and banister
Bunch of holiday greens – $5 at Trader Joe's for way more than you need
White twinkle lights
Thin gauge floral wire
Wire snips
How to:
Snip small branches from your greenery. Assemble three or four of them, stem-to-stem, into a little bowtie bunch about five inches across. Wrap the center of each bundle together with a few inches of floral wire.
Use two more short pieces of wire to attach the ends of your "bowtie" to the ribbon. Leave a few inches of ribbon blank before repeating. Wrap your finished garland loosely with lights. Hang around windows, doors or around banisters.