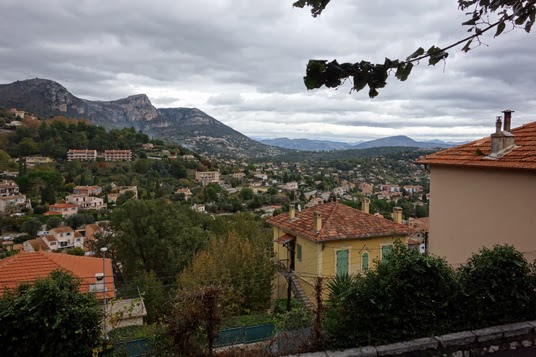 We woke up this morning to a rainy day in Vence. Not like Sunday's romantic drizzle, this was real winter rain. A good day to relax and explore the little town. After breakfast, Rob and I walked around the city ramparts.
This is the old city wash-house, built in 1811 for scrubbing clothes. Apparently, there was a serious hierarchy about who got the spots closest to the fountain at the end. The gossip that happened here must have been epic!
We walked across the bridge to see Matisse's chapel, but it was closed today.
One of the old churches in town had been turned into a museum celebrating the artist and director, Jean Cocteau, as part of the local film festival running in November. An enthusiastic volunteer served us espresso while we watched clips. Back in town, we explored the medieval city.
So tiny and cute. These archways were added ad hoc over the centuries as people wanted to expand their homes.
I'm usually great at navigation but kept getting turned around and confused inside the city walls.
The cathedral inside was built on top of a Roman temple in the 4th century and has gravestones going back to the year 220 built into the exterior walls. St. Joseph has a pretty snazzy alcove inside.
The mosaic Chagall designed for the baptism area is a happy scene of Moses being saved from the Nile.
We passed the bakery and decided it was time for a early lunch and escape from the cold.
Rob and I grabbed a table at a brasserie in town that was packed with locals. Great for people watching! I imagined that the guests around us were bankers, plumbers and bakers. I had coq au vin and Rob had daube de boeuf provencal – a hearty beef stew cooked with wine and rosemary and served over noodles. Red wine for me and water for rob. Two hearty local dishes, nicely done, for a cold day. Followed by two coffees.
Back home for Rob to start his work day. I curled up in bed and read through A Room With a View on my Kindle while it rained. Love that book!
Headed out to explore in the rainy afternoon. It looked like the whole town had smartly decided to call it quits on the stormy day. Only a few bakeries were open.
Went to the market for supplies and returned home to paint for the rest of the evening. For dinner, I heated up the camembert we picked up yesterday to make an instant fondue, along with a big salad and green olive tapenade with anchovies. Creme caramel for dessert. The cheese was good – but SO smelly – I braved the rain storm to throw away the leftover packaging in a trash bin outside instead of keeping it in our kitchen.
Tomorrow is our last day in France and we have a big hike planned.