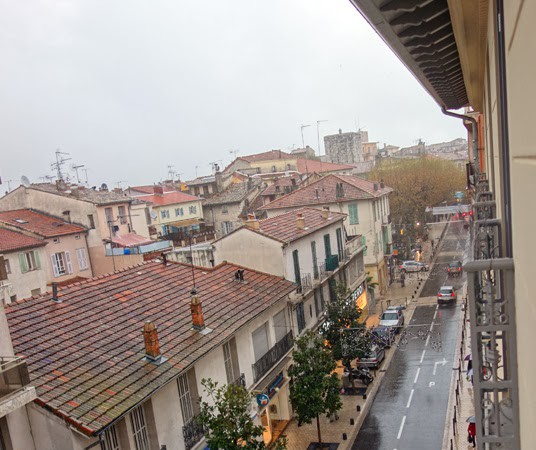 Our last day in France. Very bittersweet! Rob and I woke up early with plans for a three hour hike in the hills outside of Vence, but pouring rain had us reconsider.
Despite the stormy weather, the village did seem to be bustling. So we bundled up and headed out. Garden roses, eggs, leeks, honey and gourds were for sale in the plaza in the rain.
Inside the ancient ramparts, the empty streets we wandered the day before had bloomed into produce, seafood, spice and soap markets.
Empty storefronts became stylish boutiques. What a transformation!
I bought a big Provencal-style straw market bag from one little shop, a few linens from the boutique and fancy pastries from the bakery. We ran home to drop off the purchases and eat a rich coffee eclair before heading out to eat
Les Lavandes seemed like a popular choice for lunch. Not an authentic local's brasserie like we ate at yesterday – but a fun gourmet spot for tourists and locals. The sign outside was advertising rabbit and venison specials.
Our meal started with an amuse bouche of vegetable quiche with roquefort sauce.
Rob had the lamb and I ordered the venison. It was super delicious, with a thick wine, tomato, onion, mushroom, olive and basil sauce.
Coffee with tiny chocolate pastries to end the meal.
We picked up a few more pastries on our way home. Of course, it had stopped raining just in time for Rob to go to work for the day. I read for a bit and let my shoes dry out before going to explore. I headed up to the hills. Which villa should we live in?
The countryside was sparkling after the heavy rain.
The view just kept getting better and better as I hiked up.
This pink villa would suit me nicely I think.
From the top, it felt like you owned the entire Cote d'Azur. To the right, you could see miles into the countryside and vineyards. To the left, you could see far out to sea past Nice to Antibes and Cannes in the distance.
A perfect way to end our our stay in Provence!