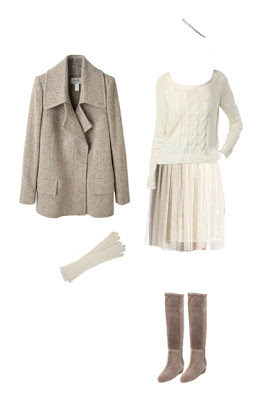 What to Wear: Winter White
My office moved to a new building last week and my 30-second commute grew to a 20 minute walk across SOMA and Union Square. It's been fun to have a bigger transition in the morning and see all the holiday storefronts, but I've needed to bundle up like never before!
This outfit was inspired by my new search for warm walking outfits, an ensemble I spotted in Osaka and the elegant ladies in winter white that I saw while having tea at The Palace Hotel today.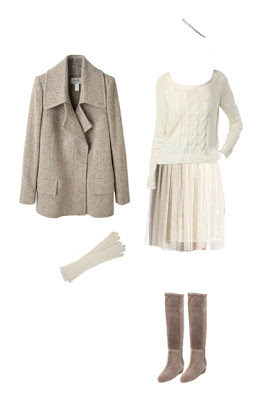 Sweater: A white cableknit pullover from Urban Outfitters.
Skirt: A white tulle skirt with subtle sequins. Tulle skirts like these were everywhere, dressed up and down, in Japan.
Boots: A cute alternative to Uggs. These suede boots have a tiny wedge and shearling lining. Unfortunately, they're $500 on sale…pretty steep!
Jacket: This loose 1980's/1930's style jackets were popular in Japan. The light tweed camel makes me drool a bit. At $1100 on sale, I'll stick to coveting.
Gloves: Elbow length cashmere gloves.
Headband: A pretty beaded headband tops off the snowflake look.