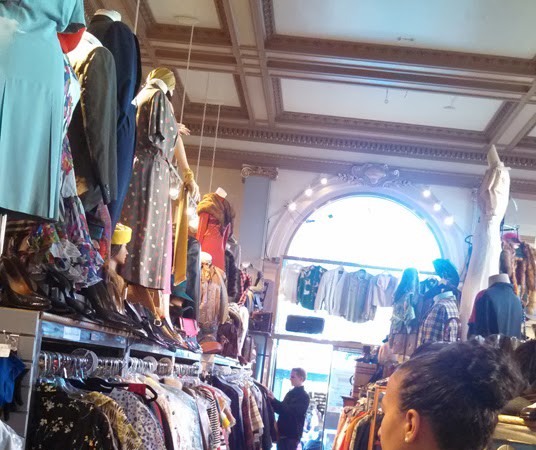 After all the fun of exploring and blogging in France, I took it easy this weekend. Jet lag is no joke.
On Friday night, Rob and I laid low with a pizza and tried to go to bed early. Woke up at 4:30 am or so and spent a few hours reading in bed. Later Saturday morning, I went to have my hair done down in Dogpatch while Rob tackled an emergency with his work. Nicole and Margaret came with me to Haight Street for some vintage clothes shopping after lunch.
We stopped for cake and coffee at a cafe in the afternoon before heading home. Quick rest and then it was time for Rob and me to go to the opera. The Barber of Seville is a fun opera full of some of the most recognizable music in the genre.
It was a good cast, except for Figaro who wasn't quite delivering in the main role. We were both super exhausted and decided to walk home after intermission.
Up early again on Sunday, but at a much more reasonable hour. Breakfast with the Sunday paper in bed. I drove down to Palo Alto to have a birthday lunch with my sister. Jean, Trent, little Ev and I walked across the Stanford campus to have burgers at Gott's Roadside and ice cream at Tin Pot Creamery.
Back to the city before 3:00 – just in time for Rob and me to meet Nicole for our scooter lesson in Hayes Valley. We all signed up for Scoot Networks, and their fleet of rental electric mopeds. Thanks to our friendly trainer, we learned how to ride in about 30 minutes.
The three of us scooted down to Valencia Street and stopped for wine and snacks at Mission Cheese.
Headed back to Hayes Valley at dusk. We were zipping all over the place on the fun scooters! A fun adventure for a fun little weekend.