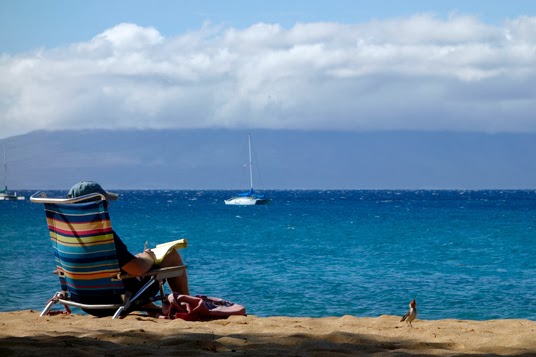 Hawaii: Exploring the North Shore of Maui
Rob and Trent left for their bike adventure early this morning. The rest of us had a lazy morning at home before taking the car out to explore the north shore of Maui. First stop, Ka'anapali Alii beach. We saw a Red-Crested Cardinal hopping along the sand:
This spot on the island was originally an airport, but closed down because high winds made the landings "exciting" according to a historical marker. The wind continues today and this was one of the choppier beaches we've visited. The steep grade of the sea floor makes it an easy spot to launch into a quick snorkel – Jean and Mom saw a lot of fish. We packed up after an hour and drove further north to Napali for lunch. We hiked from the parking lot along the rocky shore to the Napili Kai Resort.
Great leisurely lunch at an open-air restaurant overlooking the bay.
Time for another swim after eating. This may be my favorite beach on Maui so far! The water was calm – perfect for baby Everett – but deep and clear. The sandy beach had plenty of shade.
On our way out we spotted a sign with weather reports from back home. A high of 61 degrees may seem warm for those of you in the snow, but that is plenty cold for San Francisco. I do miss the city, even if not the weather.
I really liked the Napili Kai Resort. It has obviously been recently remodeled, but still has some funky 1960's style to remind me of the beach hotel we used to stay at in Montecito. Perfect lawns, swimming pools, tennis courts, shuffleboard and a great beach. If we didn't have "Hotel Haley" I would love to stay at Napili Kai.
We stopped for ice cream on the way back to Kihei. The local Roselani Tropics Ice Cream they make and sell on Maui is very tasty (Ev likes it too!).
Rob and Trent returned from their successful biking adventure shortly after we got home. Amazing that they did 10,000+ feet of climbing to the top of Haleakala in a single day! Pizza from a nearby shop for dinner.
Tomorrow is my family's last day in Hawaii. Rob and I are here for another nine days. Suggestions on what to see and do in Maui are welcome!