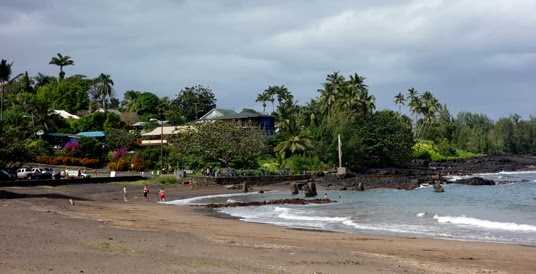 We arrived in Hana just in time for lunch. A tasty kalua pork sandwich with pineapple slaw from the snack stand facing Hana Bay. A black sand beach was easily seen from across the water.
A very pretty whitewashed Buddhist temple sits on the road out of Hana.
With the sun now out, we stopped at the Kipahulu gate of Haleakala National Park to hike the "Seven Sacred Pools" trail.
Tyler, our hitchhiker friend, gamely came along as we hiked up past the banyan trees.
Through famous Maui bamboo forest.
At the top of the trail, you're rewarded with a view of a secluded canyon filled with waterfalls.
Rob and I played a game of Kohane – Hawaiian checkers – at the ranger station while waiting for Tyler to get his camping permits.
Dropped him off at the trail head and then double backed through the Road to Hana's 52 miles and 59 bridges.