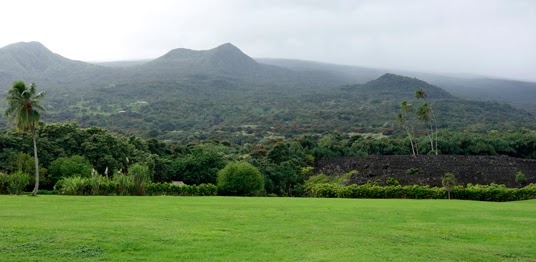 Hawaii: Kahanu Gardens on the Way to Hana
Still raining on the Road to Hana, we turned off the road on a whim to follow signs for the National Tropical Botanical Garden. At $10 each, entrance to Kahanu Gardens wasn't cheap but it was interesting to explore the grounds and see the largest ancient temple on the Hawaiian Islands. 300 by 400 feet, the lava platform dates back to the 14th century.
The grounds also feature a wide variety of tropical plants, including taro, yams, breadfruit and coconuts.
A traditional thatched house contains a carved wood canoe.
Nice and dry inside the canoe house!
One other feature: massive, menacing garden spiders. Apparently, they don't bite humans – but I didn't want to test that out.
Along with the pretty grounds, Kahanu Gardens had some of the nicest bathrooms I saw anywhere on Maui and a very informative guide book that went into detail about each type of tropical plant.