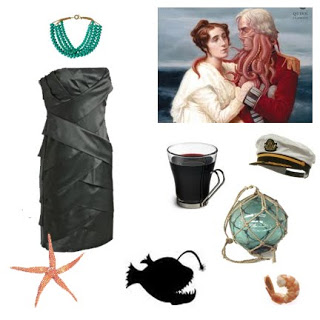 Halloween Party Idea: Afterlife Aquatic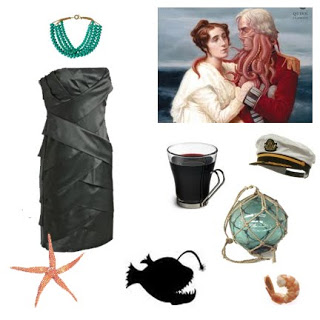 The ocean can be plenty scary…all those depths, leagues and mysterious creatures tickling your legs while swimming. This Halloween party idea is part Life Aquatic, part Sense and Sensibility and Seamonsters.
Wear: A pleated dress that can easily pass for seaweed paired with a chunky turquoise necklace. And spooky, creature-of-the-sea hair and make-up. Davey Jones for him, complete with captain's hat.
Eat: Seafood, lots and lots of seafood. Shrimp, ceviche and mussels.
Drink: Mulled wine for the "wine dark sea"
Decorate: Shadows of spooky fish on the windows and mirrors with contact paper. Fishing floats, starfish and other flotsam.