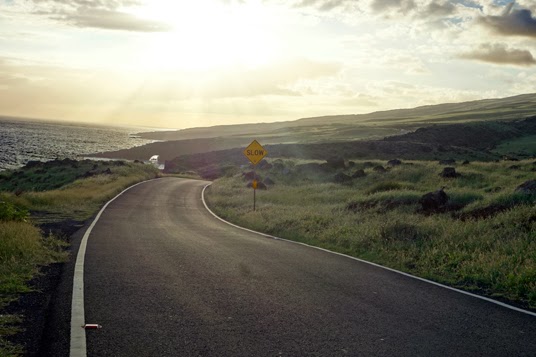 Hawaii: Driving Maui's Southeastern Upcountry
On Sunday afternoon, after we had spent the morning cleaning and preparing for Haley's return home, Rob and I decided to check out the other end of the Road to Hana. You can technically drive all the way around the east side of Maui, but the road after Hana is unpaved and quite dangerous.
At dusk, this verdant upcountry was one of the highlights of my trip. The green grass spotted with black lava rocks looks like mint chip ice cream. It's just you, cows and nothing but Pacific Ocean all the way to Mexico from here. That's the Pokowai Sea Arch in the distance:
A nicely paved one lane road most of the way.
Next time, I'd love to spend more time on this of the island. Hiking and picnicking along this empty stretch of Maui.