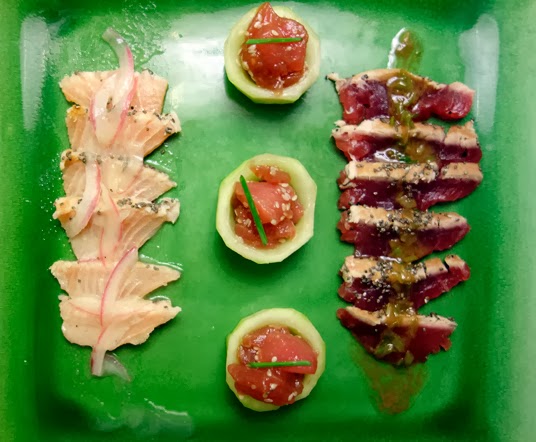 Hawaii: Make your Own Sushi Night
We made a huge sushi spread at home to celebrate our last night in Hawaii and to thank our hostess, Haley. The meal made the most of the delicious fresh ahi tuna and opah belly available at the local market.
To start, I prepared a remake of the opah tataki with lime butter vinaigrette, plus an ahi tuna version with soy wasabi butter. Can you get over the color and richness of that tuna? Finally, made cucumber cups to serve the wasabi poke we picked up at a nearby fish market.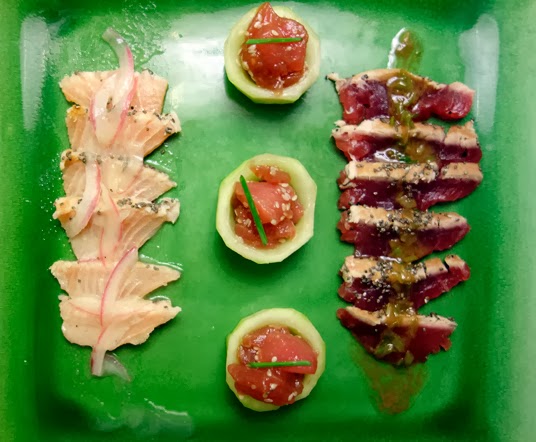 Next, properly inspired by the appetizers, we embarked on making our own sushi rolls with the rest of the fish.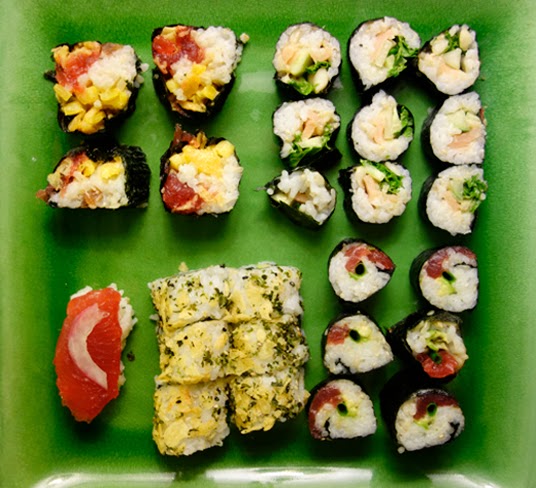 Our creations were hilarious to make as well as delicious to eat. Clockwise, from top left:
The Squishy – Ahi tuna, wasabi, spicy mayo, pineapple and maui potato chips. The undefeated champion of the night
Dublin/Pleasanton Roll – Opah, spinach garlic hummus, cucumber, curly kale and macadamia nuts. I predict kale in sushi as the next big thing!
Donut Roll – Ahi tuna, avocado, green onion and soy wasabi butter sauce
Maka Roll– Ahi tuna, cucumber, avocado with furikake and maui potato chip coating
Ahi Nigiri – With a pickled slice of onion from the lime tataki sauce on top
Spicy Opah Roll – Opah belly, cucumber, spicy mayo and avocado (in Dutch, "Opah" means "grandfather")