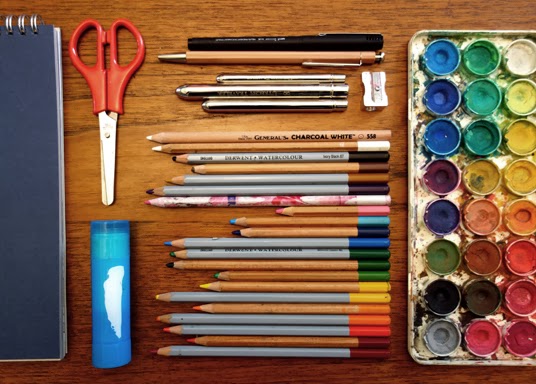 Art Supplies for Traveling
It's hard to believe that Saturday will be our last day in San Francisco until almost June. We turn over our apartment to friends in the afternoon and hit the road for one last visit with family and a quick ski trip before flying to Istanbul. I'm hardly packed at all!
Rob and I have been so lucky with our travels. From our first trip to Italy (only 3 months after we first met) all the way to last year's epic Scotland, France, Hawaii combination we've seen over 11 countries in 12 years and are about to add on two more. On every trip, I pack a set of art supplies to journal, draw and paint what we see. I inherited this journaling trait from my grandmother, who would happily read back through her trips in her final years in the nursing home. I feel like I've perfected my kit: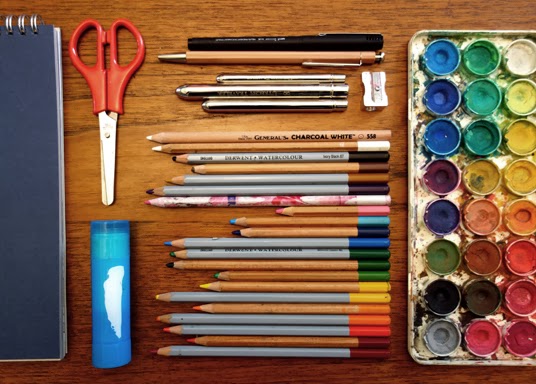 Scissors – Before TSA started allowing small scissors again, I would have to buy a set as my first chore after landing. It was fun to track down where scissors were sold in different countries.
Glue – I've also bought glue sticks in over 10 countries, they always seem to run out mid-trip. This blue glue stick is from Monoprix in France.
Pens – Fine point black uni-ball Rollerball pens are reliable, draw a solid line and only $9/dozen.
Pencil – A Japanese Delfonics wood mechanical pencil was a gift from a co-worker.
Brushes – Those three steel "bullets" are actual a set of travel watercolor paint brushes that Rob bought me for my birthday. Super light and convenient.
Pencil sharpener – A must!
White charcoal pencil – This General's White Charcoal Pencil is a new addition to the kit for Turkey. I want to try learning some white pencil sketching techniques.
Colored pencils – As you can see, mine are a hodge-podge from three different sets. I might finish that pink pencil on this trip and am bringing a replacement.
Watercolors – I had been taking this Pelikan travel watercolor set on trips, but it is giant and pretty heavy. For Turkey, I'll try going back to a smaller set I've had for a long time.
Paper – Instead of traditional watercolor paper, this time I'm taking a set of pastel papers in assorted colors to play around with the white charcoal pencil.
Journal – I'm taking a landscape blank journal from Hand Book in green canvas.
Case – Everything fits perfectly into an orange fabric case from the Japanese brand Cubix. You can buy them at the Maido Japanese stationery stores in San Francisco.