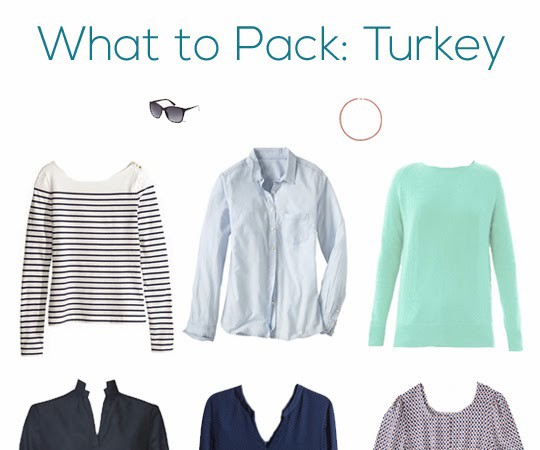 What to Wear: Turkey in March
Guys…I have no idea if I'm packing the right things for our eight week trip to Turkey, Greece and Croatia. It's going to be late March and pretty cold when we arrive. My standard European scarf and blazer combo seems a little formal for the Mediterranean. Plus, I want to try to take as little as possible to leave room for shopping. What do you think?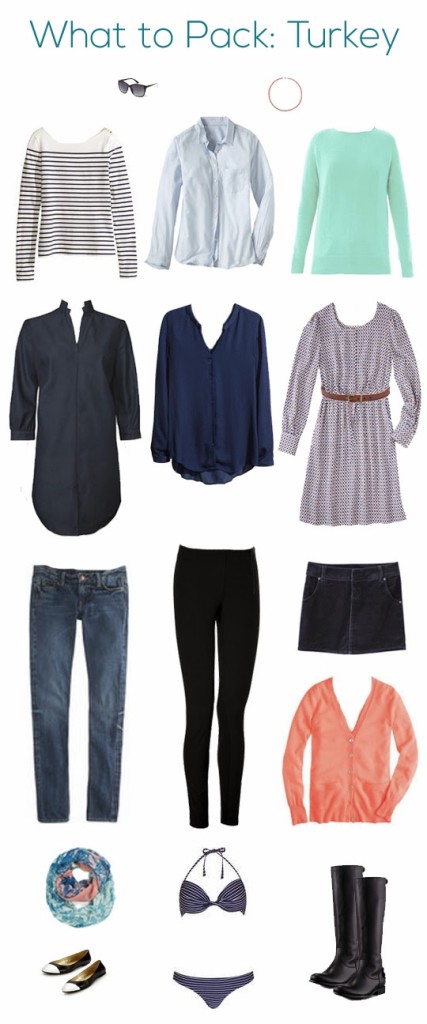 TOP ROW
Sunglasses – A basic pair of black frames from Forever 21.
Necklace – I bought a pretty strand of red coral beads in Hawaii a few years ago.
SECOND ROW
Shirt – Everyone has a couple of these $15 striped tops from H&M. Good for layering.
Blouse – A light chambray button up is easy to wear as a layer or on its own.
Sweater – A pretty mint green layering sweater.
THIRD ROW
Tunic – I bought a beautiful cotton tunic in peacock blue from Sunhee Moon in San Francisco five years ago. It's beautiful belted or loose. Plus, pockets! This denim version is even more practical.
Blouse – Polyester blouses from H&M look polished but are super easy to wash and pack on a trip.
Dresses – I have a couple light and inexpensive dresses that layer well with tights underneath and sweaters on top. This patterned dress from Target is pretty cute.
Belt – A basic leather belt from Madewell.
FOURTH ROW
Jeans – My favorite worn-in jeans that work tucked in to boots or rolled up with sneakers/flats.
Leggings – My favorite pair of leggings are extra thick and from Forever 21 of all places.
Skirt – A basic corduroy skirt to wear with dark tights.
Cardigan – A coral layering cardigan from J.Crew.
BOTTOM ROW
Scarf – A must for visiting mosques and always something that helps you look put together while traveling. This pretty scarf option in blue and pink is $28.
Flats – I have a pair of broken-in black flats with a silver cap toe that are good for walking.
Bikini – Maybe a little too optimistic considering that it's still early spring. But, hey, global warming! This navy bikini is from Topshop.
Boots – A pair of comfy black flat boots, to wear on the plane and in the cold.
Also: A couple t-shirts and tanks. A pair of puma sneakers. A puffy jacket. Black tights. Black turtleneck. Cross-body purse. Art supplies.
It seems like a LOT of clothes laid out like this. What should I leave behind?