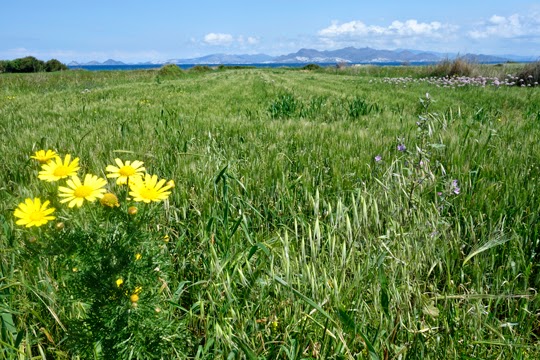 Flamingos, Goats and Figs: Biking the North Coast of Kos, Greece
For our last full day on Kos, Rob and I took our rental bikes to cruise along the north coast of the island. The weather was a bit cooler today, still in the high 60's, and the locals were bundled up like it was freezing.
As usually seems to happen, I found the good farmer's market on the very last day in town. It's here, for future reference.
We pedaled past tiny farms on a flat road for about an hour. Along the way it smelled like fig leaves and cabbage. We arrived at Tigaki Beach to find a super clear view of the other islands today.
The beach town was very closed down for spring. Construction everywhere and just one restaurant open. We rode through town to find the salt lake. Left our bikes next to some goats (doesn't Kos look a bit like like Maui?)
Hiked on a "road" that was really a muddy track in the dirt and popped out at salt lagoon that looks so much like the lake in my parent's backyard.
Those birds? They're FLAMINGOS! Bright pink when they stretched their wings, we've never seen them in the wild before.
Biked back toward Kos after getting our fill of the flamingos. That's the adorable towns of Zia and Pyli up on the mountain in the distance.
Stopped at a particularly cute church in an olive grove on the way back.
With the cooler weather and slower pace of the island in spring, it's fun to take a bike off the beaten track in Kos.