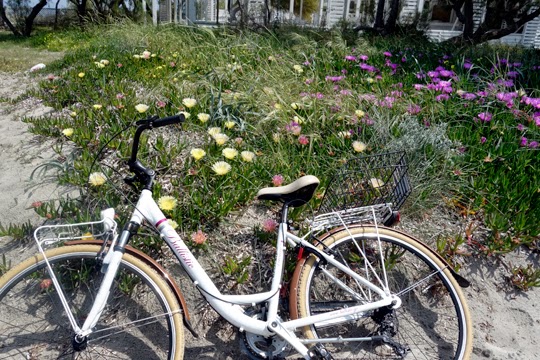 An Artsy Picnic on the Beach in Kos, Greece
The weather was a bit stormy on Kos today. Warm, but with a chance of rain. Rob and I decided on a mellow picnic at Lambi Beach for lunch after running some morning errands. I rode my rental bike and Rob jogged.
We found a lovely spot under a pine tree across from the AquaBlue Hotel – still closed for pre-season construction. In the summer, this beach is taken over with boardwalks, rental lounge chairs and thatched umbrellas.
The cloudy weather made the sea extra dramatic – and a different shade of blue in every photo I took.
We ate pita bread with smoked cheese, olive tapenade, salami, spicy cheese spread and sparkling orange juice while watching the tiny fishing boats bob across in front of Kalymnos Island and the Turkish coast.
When lunch was finished, I switched gears to finally using my new white charcoal pencil and paper for a sketch.
The shore had drifts of seaweed washed up from the winter storms. I'm sure the resorts will clean these off, but they made for a lovely soft place to sit with your feet in the waves.
I waded a lot and wished I had my swimsuit. Even though the weather was not even in the 70's, the Greek sun felt really hot.
Picked up a few stones no thicker than a Euro coin.
Rode back to our apartment on the bike path. Kos was so smart to put in these dedicated bike ways in town. It makes it so safe to get around with just a rental bike.